In this post, I will list and discuss the top 10 largest soccer stadiums in the world. Though I haven't jogged around any of these stadiums, trust me, they will leave you speechless with their incredible capacity, and size.
Without leaving you thirsty, here are the top 10 biggest stadiums in the world;
Rungrado 1st of May Stadium
Melbourne Cricket Ground
Camp Nou
FNB Stadium
Rose Bowl
Wembley Stadium
Estadio Azteca
Bukit Jalil National Stadium
Borg El-Arab Stadium
Signal Iduna Park
Let's get to it.
1. Rungrado 1st of May Stadium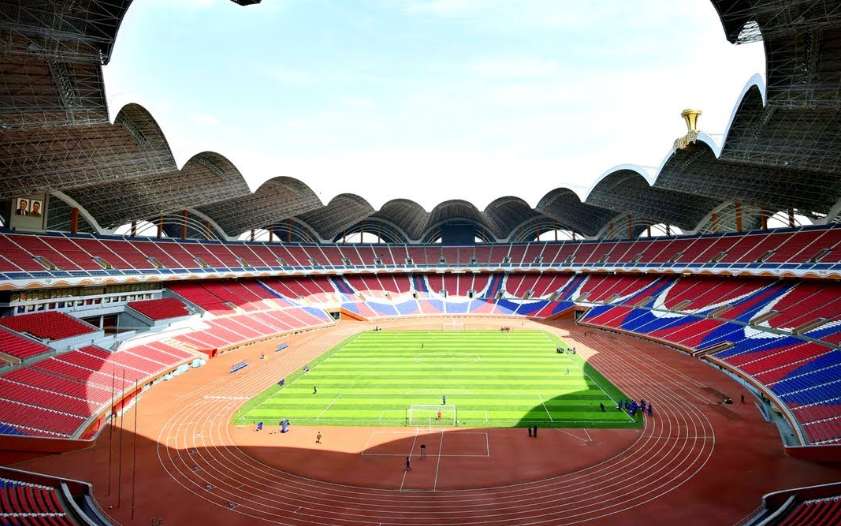 Location – Rungra Island, Pyongyang, North Korea
Capacity – 114,000
Field size – Main pitch 22,500 m2 (242,000 sq ft)
Total floor space – over 207,000 m2 (2,230,000 sq ft)
Surface – Artificial turf
READ: All MLS 2023 Stadiums Ranked From Largest To Smallest
In Pyongyang, North Korea's Rungra Island, the Rungrado 1st of May Stadium is a multi-use stadium that covers 20.7 hectares (51 acres).
The 13th World Festival of Youth and Students was its inaugural big event, and it began on May 1st, 1989.
When taking into account the re-estimated number of seats in 2014, it is the second-largest stadium in the world by seating capacity (after India's Narendra Modi Stadium), and the second-largest stadium when taking into account its official seating capacity.
2. Melbourne Cricket Ground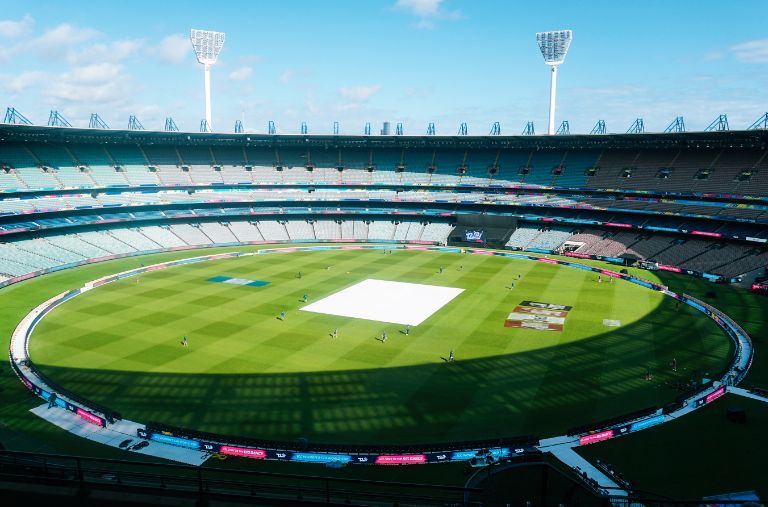 Location – East Melbourne, Victoria, Australia
Capacity – 100,024
Field size – 171 meters x 146 meters
Surface – Grass
The Melbourne Cricket Ground (MCG), sometimes referred to as "The 'G" locally, is a sporting arena in Melbourne, Victoria, Australia that is located in Yarra Park.
It was built and operated by the Melbourne Cricket Club and is the second-biggest cricket venue in terms of capacity. In fact, it is the largest stadium in the Southern Hemisphere and the 11th largest worldwide.
The Richmond and Jolimont railway stations, as well as route 70, route 75, and Route 48 trams, as well as the city center, are all within walking distance of the MCG.
It is a component of the Melbourne Sports and Entertainment Precinct and is situated next to Melbourne Park.
3. Camp Nou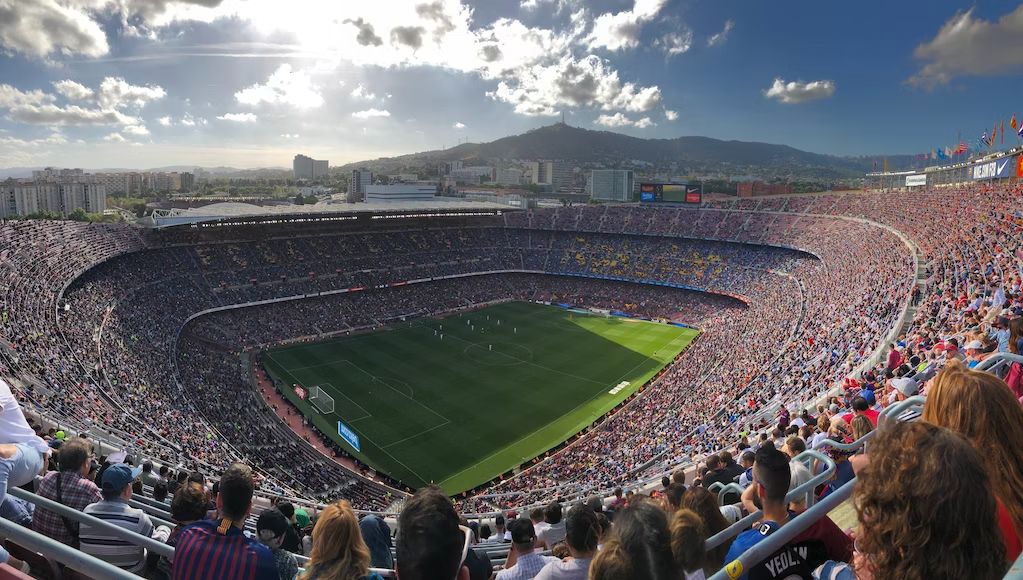 Location – Barcelona, Catalonia, Spain
Capacity – 99,354
Field size – 105 m × 68 m (115 yds × 74 yds)
Surface – GrassMaster hybrid grass (5% synthetic fibers, 95% natural grass)
Camp Nou, also known as the Nou Camp in English, is a football stadium in Barcelona, Spain, and due to sponsorship, Camp Nou is now officially known as Spotify Camp Nou.
FC Barcelona has been calling it home Since 1957.
Camp Nou is one of the second-biggest association football stadiums in the world and the largest stadium in Spain and Europe with a current seating capacity of 99,354.
READ: 10 Best Stadiums in Major League Soccer
4. FNB Stadium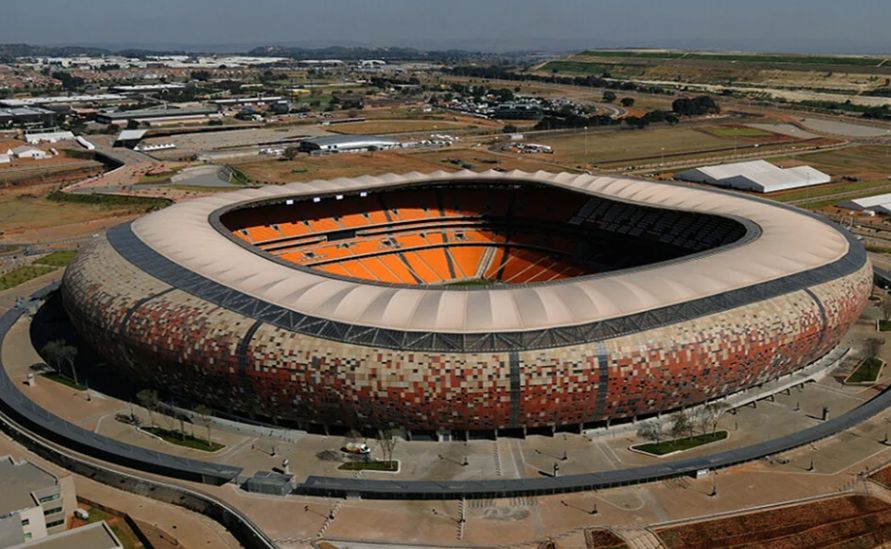 Location – Stadium Avenue, Nasrec, Johannesburg, South Africa
Capacity – 94,736
Field size 105 x 68 m
Surface – Grass
First National Bank Stadium, commonly referred to as Soccer City and The Calabash, is a rugby union and association football stadium that is located in Nasrec, a neighborhood that borders Soweto in Johannesburg, South Africa.
The stadium, which is overseen by Stadium Management South Africa, hosts both important matches for the South African national football team as well as Kaizer Chiefs F.C. in the South African Premier Soccer League.
5. Rose Bowl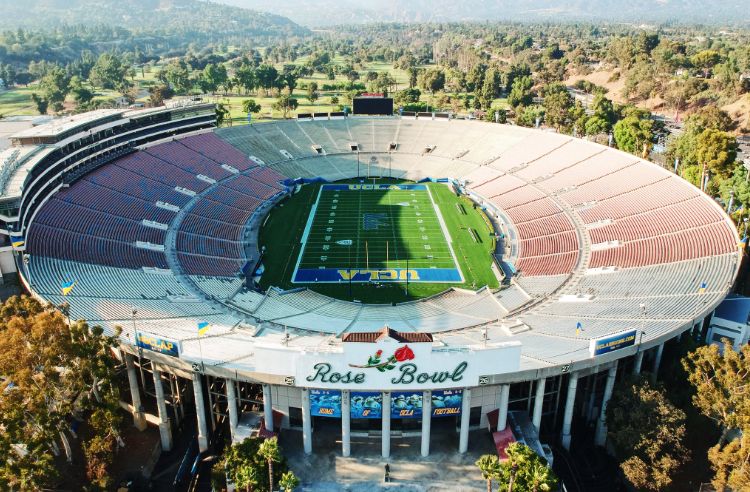 Location – Pasadena, California, United States
Capacity – 92,542
Surface – Grass
California's Pasadena is home to the Rose Bowl, an outdoor sports arena. The stadium, which opened in October 1922, is a National Historic Landmark and a California Historic Civil Engineering landmark.
Rose Bowl is the 16th-largest stadium in the world, with a capacity of 92,542 people. It is also the eleventh-largest stadium in the country.
The stadium is located 10 miles northeast of Los Angeles's downtown.
6. Wembley Stadium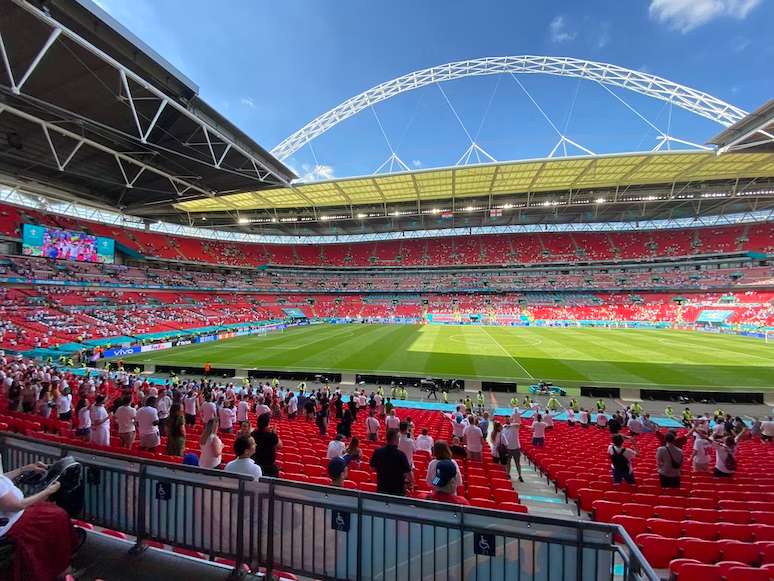 Location – South Way Wembley
Capacity – 90,000 (Association football, rugby union, rugby league, boxing) 75,000 to 90,000 seated and 15,000 standing (concerts) 86,000 to 87,000 (UEFA capacity) 86,000 (American football)
Field size – 115 yd × 74 yds (105 m × 68 m)
Surface – Desso GrassMaster
In Wembley, London, there is a football stadium called Wembley Stadium. On the site of the first Wembley Stadium, which was destroyed between 2002 and 2003, it opened in 2007.
The FA Cup Final and important football games, including England's home games, are held at the stadium.
The Football Association (the FA), the organization that oversees English football and whose offices are located inside the stadium, owns Wembley Stadium through its subsidiary Wembley National Stadium Ltd (WNSL).
READ: Top 10 Loudest Football Stadiums In The World
Arguably, Wembley Stadium is one of the biggest stadiums in Europe with 90,000 seats.
7. Estadio Azteca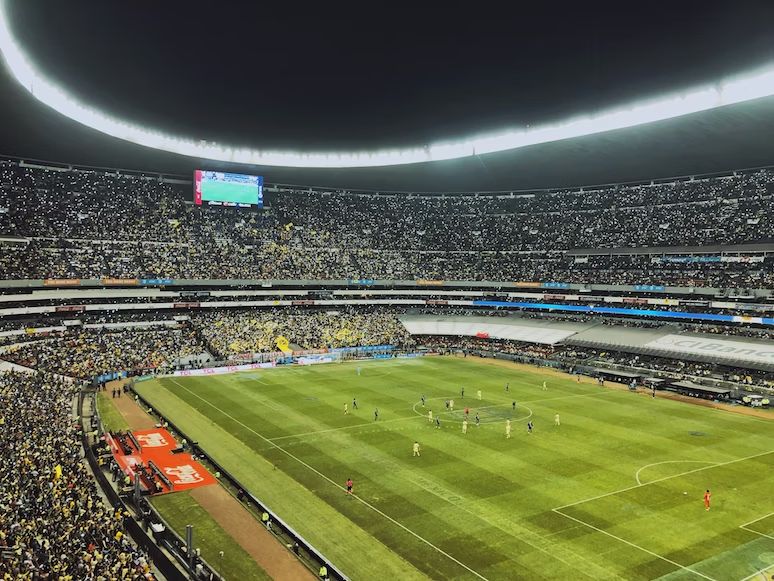 Location – Tlalpan, Mexico City
Capacity – 87,523
Field size – 105 m × 68 m (344 ft × 223 ft)
Surface – Kikuyu Grass
Estadio Azteca is a large multi-use stadium In Mexico City. Club América, Cruz Azul, and the Mexico national team all call it their official home.
2,200 meters (7,200 ft) above sea level is the stadium's elevation. The largest stadium in Mexico and Latin America, and the ninth-largest association football stadium in the world, with a capacity of 87,523.
In fact, the 1970 World Cup Final and the 1986 World Cup Final were the first two FIFA World Cup Finals to be played in this stadium making Estadio Azteca one of the most historic football venues in the world.
8. Bukit Jalil National Stadium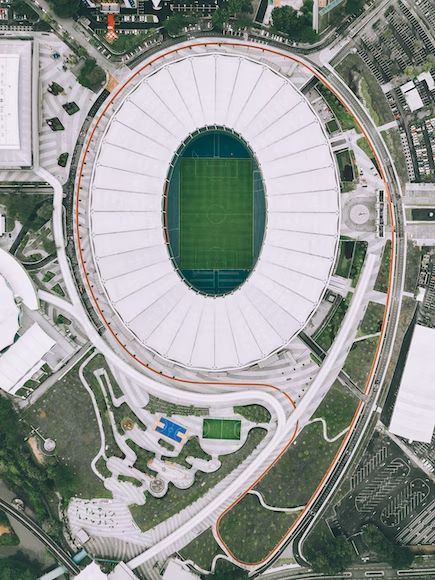 Location – Bukit Jalil, Kuala Lumpur, Malaysia
Capacity – 99,411
Field size – 105 by 68 m (344 by 223 ft)
Surface – Tropical Carpet Grass Track
The Bukit Jalil National Stadium is an all-seater multi-purpose stadium for international concerts, weddings, and sporting events as well as the home field of the Malaysia national football team.
It is situated in the National Sports Complex south of the city center of Malaysia's capital city, Kuala Lumpur.
Its 87,411 seating capacity makes it the largest stadium in Southeast Asia, the third largest in Asia, and the eighth largest in the entire globe. On July 11, 1998, Tun Dr. Mahathir Mohamad, Malaysia's fourth prime minister, gave it its formal opening.
And since It hosted the opening ceremony for the 1998 Commonwealth Games, it has evolved into the primary location for other international multi-sport events, such as the 2001 Southeast Asian Games and the 2017 Southeast Asian Games.
Also, it hosts the majority of Malaysia's international football matches, as well as the finals of national football competitions like the Malaysia FA Cup and Malaysia Cup, athletic competitions, and music concerts.
9. Borg El-Arab Stadium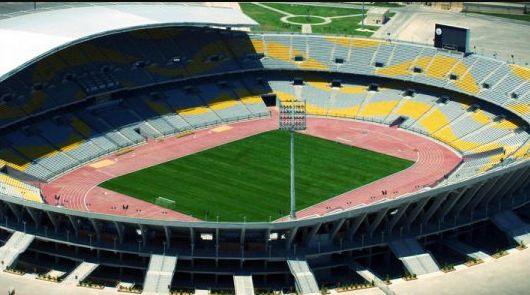 Location – Amreya, Alexandria, Egypt
Capacity – 86,000
Field size – 105 m × 70 m (344 ft × 230 ft)
Surface – Grass
With a capacity of 86,000, Borg El-Arab Stadium is both the largest stadium in Egypt and the second largest in all of Africa. It ranks as the ninth-largest association football stadium in the world.
It is located 10 kilometers from Borg El Arab Airport and 15 kilometers from Alexandria's downtown on the Cairo-Alexandria desert route. The field is surrounded by a running track and has four floodlights.
READ: Wembley Stadium Seating Plan
10. Signal Iduna Park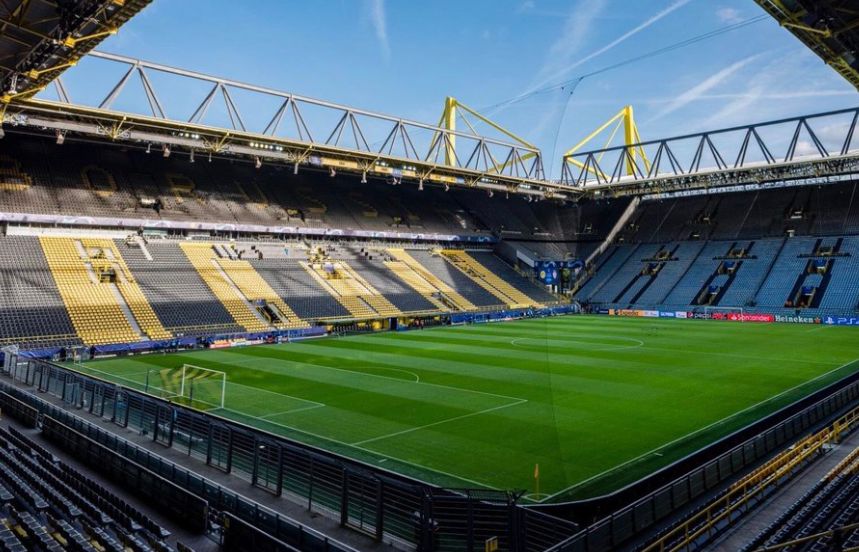 Location – Strobelallee 50 44139 Dortmund, North Rhine-Westphalia, Germany
Capacity – 81,365 (domestic matches),66,099 (international matches)
Field size – 105 by 68 m (344 by 223 ft)
Signal Iduna Park is one of the most popular football stadiums in Europe known for its atmosphere. It can accommodate 81,365 spectators for league games (standing and sitting), and 65,829 for international games (seated only).
Signal Iduna Park is the second-biggest home to a top-flight European team after Camp Nou and Santiago Bernabéu Stadium. In fact, It is the largest stadium in Germany and the seventh-largest stadium in all of Europe.
With over 1.37 million spectators over 17 games and an average attendance of 80,588 per game in the 2011–12 season, it now retains the record for average fan attendance in Europe.
So, you have the top 10 biggest football stadiums in the world.
These stadiums are not the most beautiful but in terms of capacity, they are the largest.