This post provides the list of Arsenal's best-ever managers. Arsenal has had a total of 28 different managers since 1897.
Among them is Arsène Wenger who is the club's most successful manager, guiding the club to three Premier League titles, seven FA Cups, and seven Community Shields during his time from 1996 to 2018.
Wenger also holds the record for the longest-serving manager in Arsenal's history, surpassing George Allison's 13-year record in October 2009.
It's worth noting that two Arsenal managers, Herbert Chapman and Tom Whittaker, passed away while on the job. However, here are Arsenal's best-ever managers.
READ ALSO: Top 10 Most Loved Players of All Time
Let's have fun.
| Name | Total Matches | Wins | Draws | Loss | Winning % |
| --- | --- | --- | --- | --- | --- |
| Arsene Wenger | 1, 235 | 707 | 208 | 248 | 57.25 |
| Herbert Chapman | 411 | 204 | 97 | 110 | 49.64 |
| George Graham | 460 | 225 | 133 | 102 | 48.91 |
| Tom Whittaker | 430 | 203 | 106 | 121 | 47.21 |
| George Allison | 279 | 129 | 74 | 76 | 46.24 |
| Bertie Mee | 539 | 241 | 148 | 150 | 44.71 |
| Mikel Arteta | 172 | 100 | 28 | 44 | 58.14 |
| Terry Neill | 416 | 187 | 117 | 112 | 44.95 |
| Unai Emery | 78 | 43 | 16 | 19 | 55.13 |
| Don Howe | 117 | 54 | 32 | 31 | 46.15 |
1. Arsene Wenger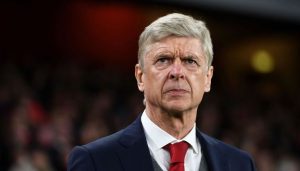 Arsenal appointed Arsène Wenger as their manager In 1996. Back then, not many fans were excited about it, the English media and even some of the players weren't delighted.
But Wenger proved them wrong. Just two years later, in 1998, he won both the Premier League and the FA Cup in the same season.
In 2002, he did it again, another league and cup double for Arsenal. And then came 2004, Arsenal recorded the entire domestic league season without losing a single game.
No one had managed that since dinosaurs roamed the Earth, or at least not for 115 years, when Preston North End did it.
Arsenal's unbeaten run stretched past that record too, smashing Nottingham Forest's 42-game unbeaten streak and going on for seven more matches.
In 2006, he guided Arsenal to their first-ever Champions League final, although they came up short against Barcelona.
Sure, there was a nine-year dry spell without lifting a major trophy, but Wenger came back strong in the 2010s with more FA Cup successes.
He now holds the record for the most FA Cup wins, with an impressive seven titles. After over two decades at the club, Wenger finally stepped down as Arsenal's manager in 2018.
2. Herbert Chapman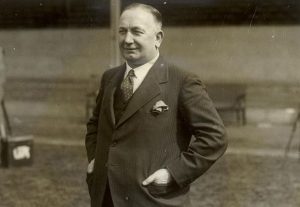 Back in 1925, Arsenal pulled off a game-changer, getting Herbert Chapman to lead the team. It was a smart move because Chapman made history with Arsenal.
Under his guidance, Arsenal clinched their very first silverware, an FA Cup, and two First Division titles. Chapman turned Arsenal into the team to beat during the 1930s, nabbing five League titles and two more FA Cups in just one decade.
Sadly, Chapman didn't get to see all of Arsenal's glory as he passed away suddenly in 1934, at just 55, due to pneumonia.
Chapman revolutionized the game and introduced new tactics, like the WM formation, which laid the groundwork for the modern football formations we see today. He also changed the way teams trained and used physiotherapists to keep players fit.
READ ALSO: Top 5 Youngest Premier League Managers In 2023
3. George Graham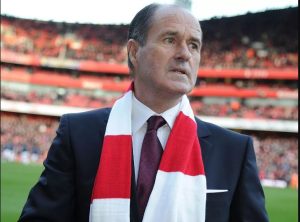 George Graham, one of Arsenal's most successful managers, held the reins for nearly a decade. Graham became Arsenal's manager In 1986, and he didn't waste any time making changes.
He was all about discipline, both on and off the pitch. By Christmas 1986, Arsenal was sitting at the top of the league, something they hadn't done in a decade.
They were on the rise, and key players like Tony Adams and Martin Hayes were leading the charge. In Graham's first season, Arsenal finished fourth and secured the 1987 League Cup, beating Liverpool 2-1.
Although they stumbled in the League Cup final the next year, they remained a force in the league. Graham's teams were known for their rock-solid defense, led by Tony Adams, Lee Dixon, Steve Bould, and Nigel Winterburn.
Also, they had a formidable midfield with players like David Rocastle, Michael Thomas, and Paul Merson. Upfront, Alan Smith was a goal-scoring machine.
The highlight of Graham's tenure came in 1988-89 when Arsenal won the League title in dramatic fashion on the final day.
They needed to win by two goals against Liverpool, and with just seconds left, Michael Thomas scored the goal that clinched the title.
In the 1990-91 season, Graham added goalkeeper David Seaman and winger Anders Limpar to the squad. Arsenal won another league title, losing only one league game all season.
Interestingly, Graham's name popped up when Liverpool's manager, Kenny Dalglish, resigned in 1991, but he ruled himself out of the job.
George Graham made history in 1991, signing Ian Wright, who became Arsenal's all-time top scorer. His tactics shifted to a more defensive style, relying heavily on Wright's goals.
But it was effective, and Arsenal won the FA Cup and League Cup double in 1992-93, a historic achievement. They followed it up by winning the UEFA Cup Winners' Cup the next season.
However, Graham's time at Arsenal took an unexpected turn in 1995. He lost his job after it was revealed he accepted an illegal payment related to player transfers. It was a shocking end to a successful era, with Graham being banned from football for a year.
4. Tom Whittaker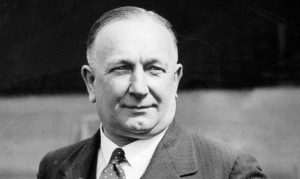 After the passing of Herbert Chapman in 1934, Whittaker continued to serve Arsenal, now under the leadership of George Allison. He also took on a role as a trainer for the England national team.
When the dark clouds of the Second World War threatened, Whittaker functioned as an ARP warden and later became a pilot in the Royal Air Force, achieving the rank of squadron leader.
His bravery during missions on D-Day earned him an MBE. After the war, Whittaker returned to his role as a trainer at Arsenal. Then, in 1947, when George Allison retired, Whittaker took the role as the club's new manager.
Arsenal achieved great success under his guidance, winning the League in 1947-48 and 1952-53, as well as the FA Cup in 1949-50.
Sadly, while still in charge of Arsenal, Whittaker passed away from a heart attack in 1956 at the University College Hospital in London, at the age of 58.
READ ALSO: Top 8 Greatest Football Managers Of All Time ( 2023 Ranking )
5. George Allison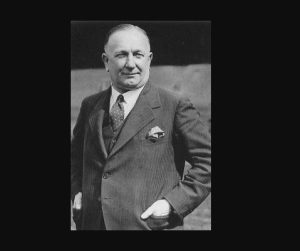 George Allison, Arsenal's second longest-serving manager, had some remarkable moments during his time at the club.
Allison took the reins as Chapman's full-time successor later that year after the legendary Herbert Chapman passed away in 1934,
Arsenal was already riding high, having won the League Championship twice in a row under Chapman and caretaker manager Joe Shaw in 1932-33 and 1933-34.
Allison kept the momentum going, securing a hat-trick of titles in 1934-35. He also guided Arsenal to FA Cup glory in 1935-36 and another League title in 1937-38.
Unlike his predecessor Chapman, Allison had a different managerial style. He took a more hands-off approach, leaving training and squad discipline to Joe Shaw and Tom Whittaker.
Allison focused on transfer policies and handling the club's relationship with the media. Some said he lacked deep knowledge of the game, but his trophy cabinet spoke for itself.
As the 1930s came to a close, Arsenal was no longer the dominant force it once was. Then came the Second World War, and the official football competition in England was put on hold.
After the war, many of the key players from Arsenal's glory days had retired. The club's performance suffered, finishing a disappointing 13th in 1946-47.
6. Bertie Mee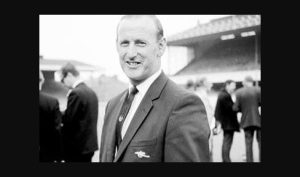 Arsenal appointed Mee as their manager after sacking Billy Wright In 1966. It was so surprising that even Mee himself requested a clause to return to his previous job as a physiotherapist if things didn't work out.
At the time, Arsenal hadn't tasted trophy success since 1953. However, under Mee's guidance and with a group of talented players from Arsenal's youth system, names like Charlie George, John Radford, Pat Rice, and Ray Kennedy, things started to change.
Arsenal reached two consecutive League Cup finals in 1968 and 1969 but missed out on victory both times, losing to Leeds United and Swindon Town.
The following season was a turning point as Arsenal claimed their first European trophy in 17 years, the Inter-Cities Fairs Cup, beating Anderlecht 4-3 on aggregate.
They achieved this after an impressive comeback from a 3-0 in the away leg. In 1971, Arsenal achieved the FA Cup and League Double.
They secured the League title at the home ground of their arch-rivals, Tottenham Hotspur. Just five days later, they triumphed over Liverpool 2-1 at Wembley after extra time, with Charlie George scoring the winning goal.
In the 1972-73 season, Arsenal made a serious challenge for the league title and even topped the table at one point. But they eventually finished as runners-up.
Their FA Cup journey was halted in the semi-finals by Sunderland, who went on to win the competition. Mee then began to reshape the team that had achieved the Double, with key players like Ray Kennedy, Charlie George, and captain Frank McLintock leaving.
In 1976, Mee announced his resignation as Arsenal's most successful manager in terms of victories, with 241 wins, a record that wouldn't be surpassed until 2006 when Arsène Wenger took the reigns.
READ ALSO: Top 10 Best Trios In Football History (Definitive List)
7. Mikel Arteta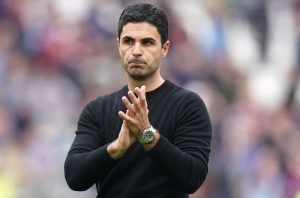 Mikel Arteta's has proven to be the best decision after Arsen Wenger. In December 2019, Arteta became the manager at his former club, Arsenal, with a vision to restore the club's lost direction.
He emphasized the importance of responsibility, passion, and energy among the players, setting the stage for a new era at the club.
His debut as Arsenal manager came on December 26, 2019, in a Premier League match against Bournemouth that ended in a 1-1 draw.
Despite the result, Arteta praised the attitude and fighting spirit of his players. A few days later, on January 1, 2020, Arteta secured his first victory as Arsenal's coach, a 2-0 win over Manchester United.
On July 18, 2020, Arsenal defeated Manchester City, 2-0 in the FA Cup semi-final. This victory led Arsenal to their fourth FA Cup Final in seven years, and Arteta's first as head coach.
Arsenal went on to win the final 2-1 against Chelsea, marking Arteta as the first person to win the FA Cup as both captain and coach of Arsenal.
He also became the first head coach or manager to win a major trophy in his first season in charge of the club since George Graham in 1986-87.
Arteta's success continued as Arsenal clinched the FA Community Shield, defeating Liverpool 5-4 on penalties on August 29, 2020.
His role was officially changed from first-team head coach to manager on September 10, 2020. The 2021-22 season saw Arteta facing trouble as Arsenal started with three consecutive losses.
However, the team's resilience showed as they went on to win all their league games in September, earning Arteta his first Manager of the Month award.
This success continued with another Manager of the Month award in April 2022, along with a contract extension until the end of the 2024/25 season.
The 2022-23 season began well, with Arsenal winning their opening games and Arteta achieving milestones as the second-quickest manager to reach 50 top-flight wins for the club.
Arsenal's strong start led to Arteta receiving his third Manager of the Month award of the season. Arteta's Arsenal set another record, winning nine of their first ten league games in the 2022-23 campaign.
They also secured a victory over Chelsea at Stamford Bridge, highlighting Arteta's impressive record.
While Arteta's Arsenal had a remarkable run, they faced challenges toward the end of the season, ultimately finishing in second place and securing a Champions League qualification spot.
As Arsenal embarked on the 2023-24 season, Arteta guided them to victory in the 2023 FA Community Shield against reigning champions Manchester City.
Additionally, Arsenal defeated rivals Manchester United at home for the third consecutive time in the Premier League, a first in the Premier League era. Mikel Arteta is gradually building his name as a prominent figure in Arsenal's managerial history.
8. Terry Neill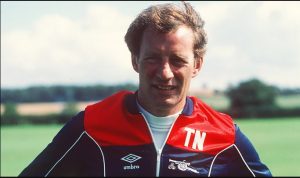 At 34 years old, Neill became the youngest Arsenal manager to date when he succeeded Bertie Mee In 1976. He brought fresh talent to the team, including notable signings like Malcolm Macdonald and Pat Jennings, as well as nurturing young stars such as Liam Brady and Frank Stapleton.
This infusion of talent led to Arsenal's resurgence, similar to their form during the 1971 double-winning season. Arsenal reached three FA Cup finals in 1978, 1979, and 1980.
While they faced disappointment in two of those finals, the 1979 FA Cup final against Manchester United remains in football history.
Arsenal was leading 2-0 in the 86th minute, but United scored two late goals to level the score. Then, Alan Sunderland netted a last-minute winner, securing a 3-2 victory for Arsenal. Neill's managerial skills led Arsenal to the 1980 final of the UEFA Cup Winners' Cup.
In a memorable semi-final clash against Juventus, Arsenal pulled off a stunning upset with a late goal from substitute Paul Vaessen, marking the first time Juventus had lost to a British team on home soil.
However, Arsenal couldn't clinch the title, falling to Valencia in a penalty shootout in the final. Despite success in cup competitions, Arsenal struggled to replicate their form in the league.
In the 1980-81 season, Neill guided Arsenal to a third-place finish, the closest they had come to winning the league title in a decade.
Despite being given an improved three-year contract at the start of the 1983-84 season, Neill was unexpectedly sacked by Arsenal in December 1983. The decision, made by club chairman Peter Hill-Wood was the end of Neill's managerial career at just 41 years old
READ ALSO: Top 10 Best Defenders In The World (2023 Ranking)
9. Unai Emery
Unai Emery's time at Arsenal ended in disappointment after a promising start. Emery became Arsenal's head coach In May 2018, signing a two-year deal with an option for an extension.
His spell began with a challenging start as Arsenal faced Manchester City in their opening Premier League match, resulting in a 2-0 loss.
The following week, a defeat to Chelsea added to the early pressure. Emery's first taste of victory came on August 25th when Arsenal triumphed 3-1 over West Ham United. This victory ignited a remarkable run, with Arsenal winning 11 consecutive games, their best streak since 2007.
The team's unbeaten streak extended to 22 games, featuring an exciting 4-2 win over arch-rivals Tottenham Hotspur in Emery's inaugural North London derby.
Despite league struggles, Emery guided Arsenal to the Europa League final but suffered a 4-1 defeat to fellow English side Chelsea. Unfortunately, Emery's time at Arsenal took a downturn in November 2019.
A series of poor results and a winless streak of seven games led to his dismissal after a 2-1 home defeat to Eintracht Frankfurt in the Europa League. He was succeeded on an interim basis by Freddie Ljungberg and later permanently by Mikel Arteta.
10. Don Howe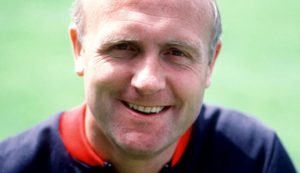 Howe's transition from player to coach saw him become Arsenal's reserve team coach under Bertie Mee. And when Dave Sexton departed in October 1967, Howe assumed the role of first-team coach.
It was during this period that Arsenal achieved a remarkable milestone, clinching the Double in 1971, with Howe's coaching expertise proving crucial to the team's success.
However, Howe briefly left to manage West Bromwich Albion, but his time there was spoiled by relegation to Division Two in 1973.
Subsequently, he took on coaching roles at Leeds United and managed Turkish club Galatasaray in 1975. In 1977, Howe returned to Arsenal as head coach under the leadership of Terry Neill.
Following Neill's departure on December 16, 1983, Howe stepped up as caretaker-manager and was later appointed permanently after the game against Leicester City on April 28, 1984.
During his term, Howe introduced promising young talents like Tony Adams, David Rocastle, and Niall Quinn to the team.
Despite their potential, Arsenal struggled to secure trophies under his management, consistently finishing either 6th or 7th in the league. However, there was a brief moment in October 1984 when Arsenal topped the league.
After just over two years in charge, Howe resigned on March 22, 1986, following Arsenal's match against Coventry City. Then, George Graham succeeded him as manager.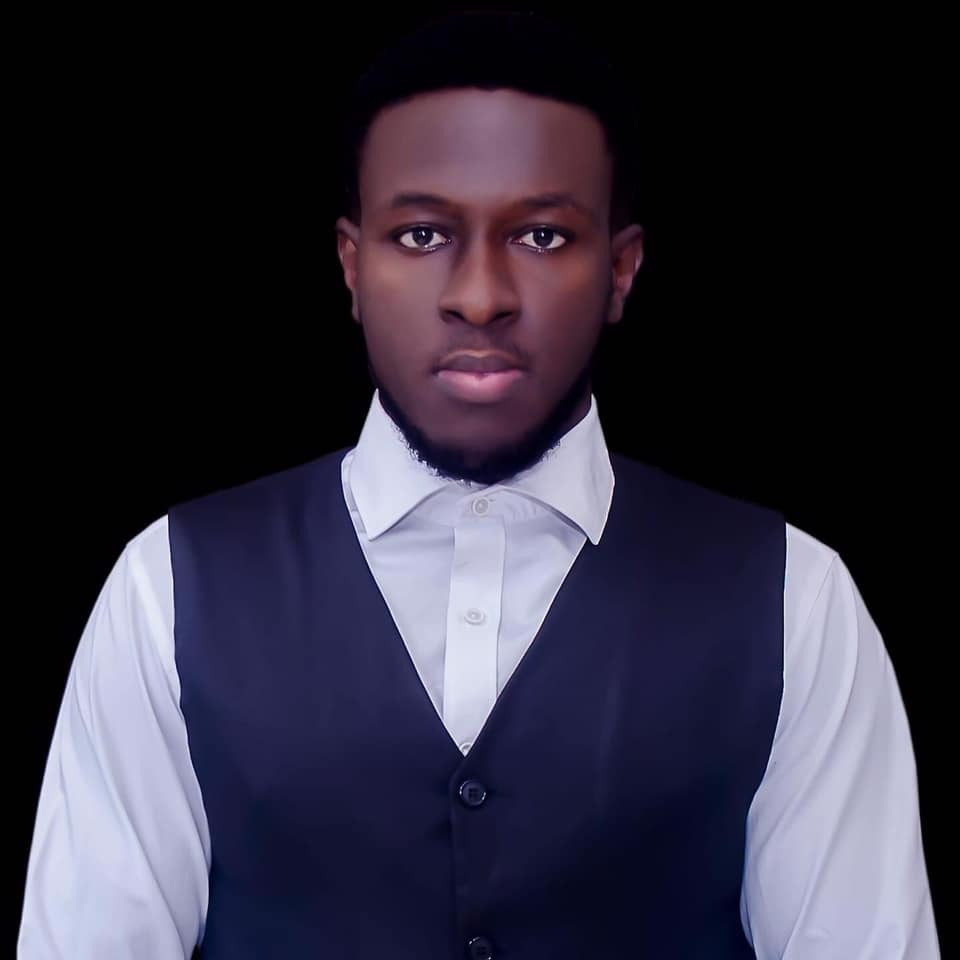 Kenneth is a an avid soccer follower, fan and writer. He is a consistent follower of the sport and is a fan of Chelsea FC.