Let us talk about one of the crucial positions, center-back especially, a left-footed center-back.
Typically, center-backs are deployed alongside a full-back on each side, although they can also form a defensive trio with or without full-backs.
And you know, their primary job is to thwart opposing attacks and prevent them from scoring.
However, In the game, I have seen a few left-footed center-back with superb qualities which I'm going to share with you.
Arguably, they are the best left-footed center-backs that I have ever seen in action.
Check out my;
5 Best Left-Footed Center-Backs Of All Time
Paolo Maldini
Walter Samuel
Frank De Boer
Giorgio Chiellini
Gabriel Heinze
Let's learn about their qualities as a center-back.
READ ALSO: 10 Best Soccer Documentaries Of All Time
1. Paolo Maldini
Paolo Cesare Maldini is an Italian football legend most remembered for his time at AC Milan and the Italy national team. He is regarded as one of the greatest left-footed center-backs of all time.
Maldini had an impressive 25 seasons, all of which were spent in AC Milan. During his spell, he won 26 trophies, including five UEFA Champions League titles, seven Serie A titles, and many domestic and international accolades.
His impressive defensive prowess was recognized with the Best Defender award at the UEFA Club Football Awards at the age of 39.
One superb quality that he got was his tactical versatility and exceptional ability with both feet which allowed him to adapt to various positions along the backline.
Although mostly right-footed, he shifted to the left-back position under the guidance of manager Arrigo Sacchi. In addition, his composure was second to none.
You will always see him sliding tackles, even though he possessed the qualities of an attacking player. His marking, awareness, and ability to anticipate were exceptional.
While his tackling and physical presence were obvious, he often prioritized positioning and marking over unnecessary challenges.
Also, his aerial ability and strength complemented his defensive skill, making him one of the best in his position. Plus his ability to move into the midfield and excel in the sweeper or libero role proved his versatility.
Ronaldinho once talked about Maldini's unique style, remarking, "He was one of the best defenders in Champions League history, but what was so impressive about him is that when he was on the ball he didn't look like a defender, but like an elegant midfield player."
READ ALSO: Top 11 Soccer Players With Long Hair – 2023
2. Walter Samuel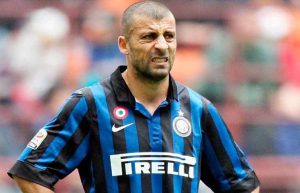 Walter Adrián Samuel is an Argentine football icon renowned for his defensive skills. And he is widely regarded as one of the best center-backs of his generation, In fact, he is one of football's toughest defenders.
His former international teammate and Inter captain, Javier Zanetti, even referred to him as the "hardest player" he has played with. Samuel started his club career with Newell's Old Boys in 1996 before making his way to Boca Juniors a year later.
In 2000, he sealed a move to Europe, joining Italian club Roma and Spanish club Real Madrid. However, it was during his nine-season stint with Inter that he made his mark.
He was an integral part of the treble-winning team in the 2009–10 season campaign under José Mourinho. Then, he and his defensive partner, Lúcio were real killers as they could kill any great attack.
He is a tall figure on the pitch, and he possessed amazing physical attributes, combining size, speed, and power.
His dominance in aerial duels was a plus as was a formidable threat both defensively and offensively, particularly during set pieces.
Samuel's uncompromising and robust tackling, coupled with his ability to maintain tight marking, made him tough. In fact, he was nicknamed "The Wall".
Despite his remarkable abilities as a defender, Samuel's career was plagued by injuries that affected his fitness. But still, his defending qualities are undisputed
READ ALSO: Top 5 Argentina Biggest Losses In Football History
3. Frank De Boer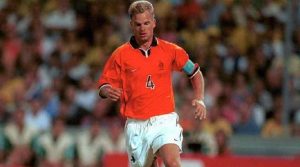 Franciscus de Boer's professional playing days were spent at Ajax, where he won an impressive collection of silverware, including five Eredivisie titles, two KNVB Cups, three Super Cups, one UEFA Super Cup, one UEFA Cup, one UEFA Champions League, and one Intercontinental Cup.
Following his successful tenure at Ajax, he had stints at Barcelona, Galatasaray, Rangers, Al-Rayyan, and Al-Shamal before retiring.
As the third-most capped outfield player in the history of the Netherlands national team, with 112 caps, De Boer led Oranje to the semi-finals of both the 1998 FIFA World Cup and UEFA Euro 2000.
De Boer's qualities as a world-class defender are unimaginable. His defensive skills, pace, technical ability, and accurate passing differ him from other center-backs.
Even his leadership qualities were clear as he effortlessly carried the ball out of defense, initiated attacks, and created scoring opportunities with long balls.
Furthermore, his versatility, intelligence, and elegance allowed him to excel both on the left and in the center of defense, and he was even deployed as a sweeper.
If you ask me, he was a dangerous set-piece taker, for his accurate bending free kicks from anywhere around the penalty area.
READ ALSO: Ankara Messi Commentary, Meaning, And Origin
4. Giorgio Chiellini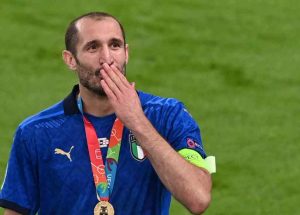 Giorgio Chiellini is another Italian professional footballer on my list of best left-footed center-backs of all time. He is currently enjoying his time in the Major League Soccer club, Los Angeles FC. Buddy, it is going to be hard for you to beat Chiellini in his generation.
His strength, aggression, and exceptional man-marking skills, coupled with his ability to adapt to both three and four-man defensive setups made him a tough one.
Chiellini began his professional career with Livorno in 2000 before he moved to Fiorentina. However, it was his move to Juventus in 2005 that truly defined his career.
He won lots of titles which include five Coppa Italia titles and five Supercoppa Italiana titles, with two UEFA Champions League finals appearances in 2015 and 2017.
His consistent excellence earned him a place in the Serie A Team of the Year in five consecutive seasons (2012–13, 2014–15, 2015–16, 2017–18, and 2018–19) and three Serie A Defender of the Year awards (2008, 2009, and 2010).
Talking about his international level performances, he participated in several major tournaments, including four UEFA European Championships, two FIFA World Cups, and two FIFA Confederations Cups.
He was an integral part of Italy's triumph in UEFA Euro 2020, reaching the final of UEFA Euro 2012, and securing a third-place finish at the 2013 FIFA Confederations Cup.
With 117 caps, Chiellini stands as Italy's joint fifth-highest appearance holder. Chiellini is an aggressive, courageous, and hard-tackling center-back.
Massimiliano Allegri, his former manager at Juventus, lauded him as "the best defender in the world."
Walter Mazzarri, Chiellini's former Livorno manager, described him as "a force of nature" and praised his ability to mark multiple players simultaneously.
Chiellini's no-nonsense playing style, characterized by physicality and aggression, earned him the nickname "King Kong."
However, despite not possessing extraordinary technical skills, his vision allowed him to play the ball out from the back and initiate attacks after winning possession.
READ ALSO: Top 6 Cristiano Ronaldo Best Seasons
5. Gabriel Heinze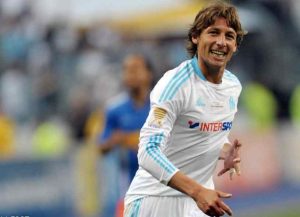 I'm not a fan of ball-playing center-back, but Gabriel Iván Heinze made me fall in love with his combination of technical skills, and defensive abilities.
He is known as Gringo in Argentine-Spanish slang, Heinze proved his talents as both a left-back and a center-back throughout his career. Though he is currently the manager of Newell's Old Boys, he was a beauty to watch during his playing days.
Heinze rose to prominence during his spell at Paris Saint-Germain, where he established himself as a capable defender.
In 2004, he embarked on a new chapter with Manchester United, winning three trophies during his time with the English club.
Also, he made a high-profile move to Real Madrid, and he continued to perform at his best, adding more silverware to his collection. Remarkably, Heinze's professional journey began and concluded with his beloved club, Newell's Old Boys.
READ ALSO: 5 Best Soccer Teams In Portugal
Conclusion
This 5 Best Left-Footed Center-Backs of All Time; highlights some of the qualities of the greatest left-footed defenders in football history.
Paolo Maldini who I love for his tactical versatility and composure, stands as one of the all-time greats. Also, Walter Samuel's dominance in aerial duels and robust tackling earned him the nickname "The Wall."
Frank De Boer's defensive skills, technical ability, and leadership qualities set him apart, while Giorgio Chiellini's strength, aggression, and adaptability make him one of the best of all time.
And the Argentine sensation, Gabriel Heinze impressed me with his combination of technical skills and defensive prowess. Now back to you buddy, who is your best left-footed center-back on the list, and why?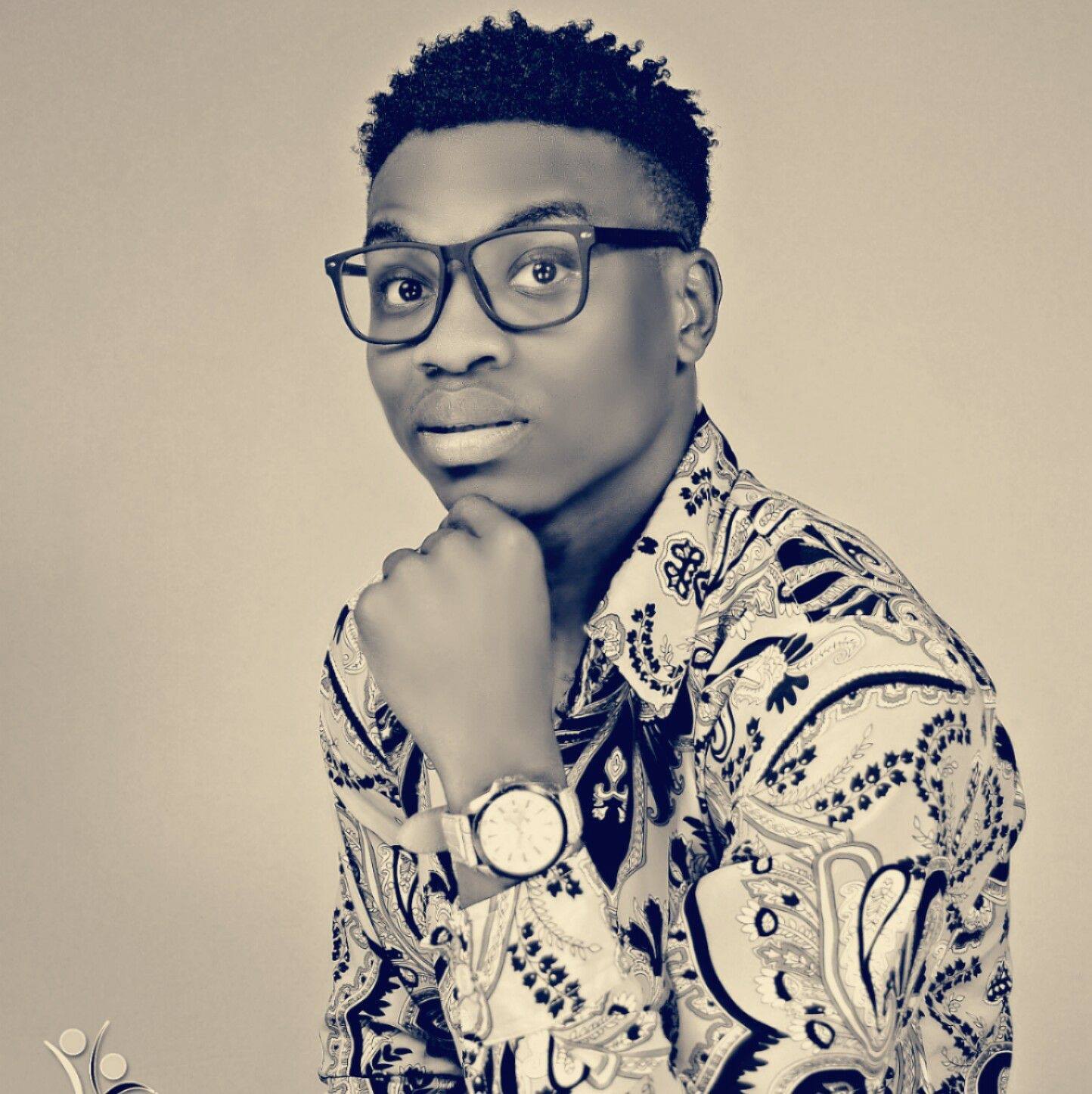 Pataka is a consistent and avid follower of the round leather game. He communicates his passion by editing soccer posts for various soccer platforms.