In this post, I will be ranking the best right-backs in football history.
So, if you have ever wanted to know who is the best player in the right-back position, then you've got to stick with me till the end of this thread.
The right-back position requires composure, pace, and strength as they are one of the integral parts of the backline.
Their primary job is to stop opposition attacks, and if you've got a bit of technical skills, then it's a plus for you.
However, only a few players have been excellent in this position, some are good at defending and attacking while some couldn't strike a balance between the two.
And in modern football, the right-back position has changed with the likes of Arnold, Davies, James, and Co. redefining the position.
It's now more fun, the position is more technical than it used to be. That said, I will be sharing with you my top 5 top right backs that I have ever seen in football history.
These players have proven to be the best, recording great performances, and achieving lots of team, and individual honors.
READ ALSO: Top 5 Best Football Teams In The World (2023 Ranking)
Without delay.
5 Best Right Backs In Soccer History
Cafu
Lilian Thuram
Dani Alves
Philipp Lahm
Javier Zanetti
These players display remarkable defensive prowess, and tactical intelligence, and contribute effectively to their team's attacking play.
Let's celebrate them.
1. Cafu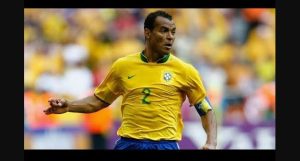 Cafu is arguably the greatest full-back of all time, and he is one of Brazil's finest-ever players. His impression on the game goes beyond his remarkable skill as he has the qualities of a perfect right back.
During his career in Italy, Cafu earned the nickname "Pendolino" after the country's express trains, symbolizing his speed and movement across the field.
He was a dynamic, hard-working, and offensive-minded player during his playing days.
However, his biggest attribute was his blistering pace, which allowed him to sprint up and down the right flank tirelessly, providing an additional attacking threat for his team.
He seemed to possess boundless energy, constantly harassing opponents and supporting his teammates in both defense and attack.
Tactical intelligence was another feather in Cafu's cap. He understands the game, and he is always making the right decisions at critical moments.
Also, his distribution skills were precise as he can initiate attacks and create scoring opportunities.
Cafu's ability to make overlapping attacking runs down the right flank was a hallmark of his play, often catching opponents off guard.
He is always delivering opportunities for his teammates to score with his accurate crosses. Aside from his exceptional football abilities, Cafu was known for his discipline and leadership.
His professionalism and positive attitude inspired those around him.
While primarily recognized as an attacking right-back, Cafu proved his versatility, doing well as a center-back due to his defensive prowess and adaptability.
Moreover, he occasionally featured in more advanced positions, even taking up the role of a right-winger.
READ ALSO: 10 Biggest Premier League Wins In History
2. Lilian Thuram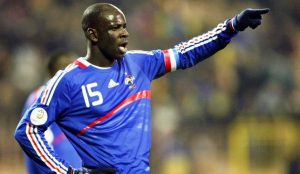 Lilian Thuram's name rings with dominance, consistency, and athleticism, a formidable combination that established him as one of the best defenders in the world during his prime.
Thuram possessed physical, tactical, and technical attributes. His strength, pace, and stamina make him an imposing presence on the field.
Likewise, his outstanding physicality helped him to shine in one-on-one situations, making him a difficult opponent to bypass.
His aggressive tackling and heavy marking tactics ensured opponents struggled to find an opening when facing him.
Thuram's elegant style of play combined with his defensive prowess made him a formidable force in shutting down attacks.
Additionally, his aerial prowess gave him an advantage in both defensive and offensive situations, providing a threat on set pieces.
His ability to make attacking runs up the flank after winning back the ball tells of his impact on his team's offensive play.
With proficiency on either flank and even in the center, due to his adeptness with both feet, he seamlessly transitioned between playing as a center-back or as a right-back and occasionally moved into midfield.
Even amidst the intensity of his performances, he displayed a commendable sense of fairness.
3. Dani Alves
Alves is technically brilliant and is regarded as one of the best full-backs of his generation and of all time.
Operating primarily as an offensive right-back or wing-back, Alves's skill includes pace, stamina, and overlapping attacking runs that have consistently troubled defenses.
Alves's technical abilities help him to transition into midfield or even as a winger.
Also, his crossing accuracy and distribution allow him to link up with midfielders, acting as an effective assist provider down the right flank.
Moreover, his striking ability is noteworthy, with an eye for scoring goals from outside the area or long-range set pieces.
Despite not possessing a physical presence, Alves compensates with significant strength, tenacity, and work rate.
His energy and anticipation allow him to intercept passes and press opponents relentlessly when not in possession, thus making contributions both offensively and defensively.
However, Alves has faced occasional criticism in the media for neglecting the defensive aspect of his game. During his time with Paris Saint-Germain, he proved his versatility, occasionally featuring as a central midfielder.
Alves's wish to play in the middle, allowing him to have more touches on the ball and aid his teammates in a creative role, led to his tactical switch during his time with São Paulo.
He revolutionized the traditional full-back role, bringing a unique interpretation that emphasized adaptability.
Throughout his remarkable career at Bahia, Sevilla, Barcelona, Juventus, and PSG, Alves has consistently adapted his game to complement his teammates and contribute in various areas of the field.
READ ALSO: Top 5 Goalkeepers With Most Clean Sheets In Premier League History
4. Philipp Lahm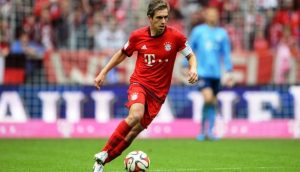 Lahm's small stature belied his strength and impressive shooting skills, but his pace, technique, and stamina made him a formidable force on the field.
This earned him the nickname "Magic Dwarf".
Lahm's ability to cut from the flank to the inside of the pitch, either to shoot or make incisive passes, added a dynamic dimension to his play.
His small stature did not hinder his defensive contributions; in fact, it enhanced his ability to maneuver opponents and win back possession with accuracy.
Also, his range of skills, including his ability to read the game, provided positional awareness that made him perform defensively despite his size.
His leadership qualities and consistency are among the reasons why I consider him one of the best full-backs of all time.
Under Pep Guardiola, Lahm's versatility was like never before.
He acts as a pivot in a 3–4–3 formation.
In this role, Lahm dictated play with his playmaking abilities, and acted as a defensive shield, providing a vital link between defense and attack.
Lahm's partnership with winger Arjen Robben at Bayern Munich was an example of efficient collaboration.
Robben's improved defensive work rate allowed him to cover for Lahm's overlapping runs, creating a formidable combination on the right flank.
Guardiola himself regarded him as perhaps the most intelligent player he had ever coached. The Magic Dwarf style of play redefines the expectations of a full-back.
5. Javier Zanetti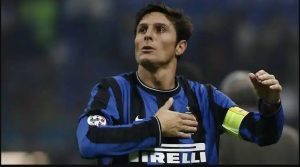 Javier Zanetti is renowned for his stamina and runs up and down the wings, acting as a pivotal figure in both the attack and defense of his team.
Zanetti began his career as a right-offensive winger, his tactical intelligence and versatility saw him move back into midfield, where he became a key figure capable of playing anywhere in midfield or defense.
He had a long career due to his fitness and consistency, starting in over 30 games even in his late 30s. And impressively, he received only two red cards his entire 22-year career.
Zanetti's prime was marked by his quickness, strength, and exceptional physical attributes.
Alongside his outstanding ball control, dribbling skills, and technical ability, he possessed acceleration that made him a difficult player to beat.
Defensively, he displayed ball-winning and man-marking, while also showing his ability to distribute the ball effectively with his passing range and vision.
At Inter, Zanetti forged a great partnership with fellow full-back Maicon, leading the club to numerous titles and achieving incredible success.
Not only the fan, but His qualities also impress opponents with Ryan Giggs describing him as his most difficult opponent, praising his speed, power, and intelligence.
READ ALSO: Top 5 Premier League Longest Unbeaten Run
Did My List Meet Your Expectation?
In my head coupled with performance analysis, these are my best right-back players in football history.
They displayed defensive courage, tactical intelligence, and the ability to contribute to their team's attacking play.
And players like Cafu, Lilian Thuram, Dani Alves, Philipp Lahm, and Javier Zanetti have redefined the right-back position with their physical attributes, and technical abilities.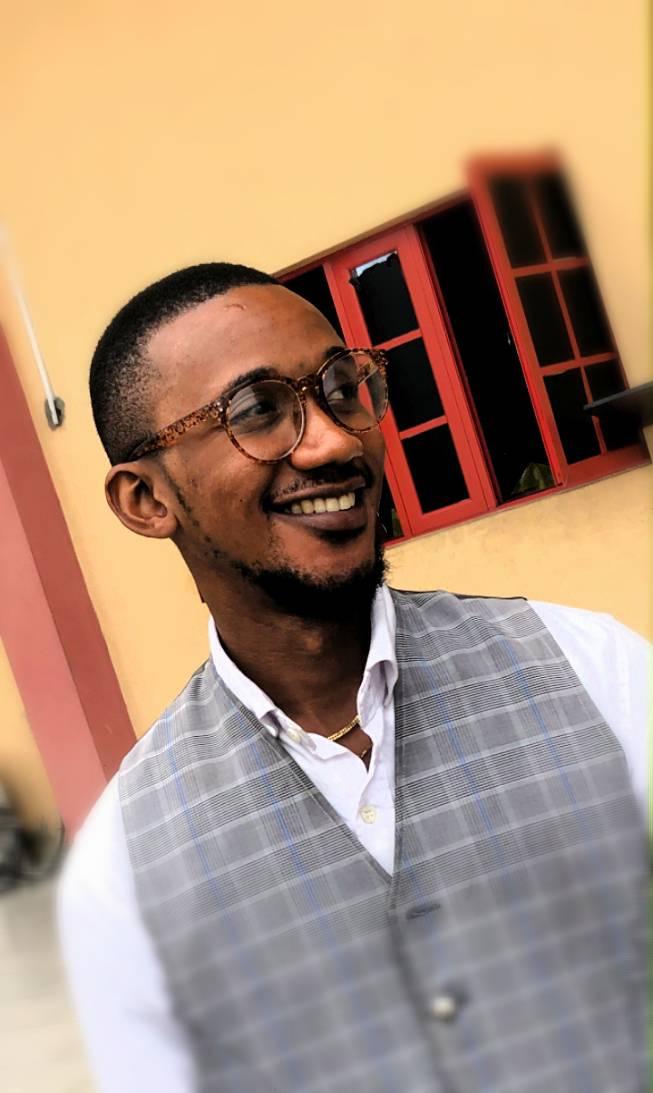 Douglas Jay is a Manchester United FC fan who has followed the sport for years. He is also a Footiehound Editor with a huge passion for the round leather game.