Before a word let me ask. Who do you think is the best young African football player in FIFA 23?
The world's game is now on the playlist, and everyone seems to want to play and enjoy its pleasure.
While some want to know the best South American players in FIFA 2023, some are craving the best young African players in FIFA 23.
However, in this post, I will list the top 5 African football players in the game, and you will learn about their ratings and potential.
5 Best Young African Players In FIFA 23
Amad Diallo
Bilal El Khannouss
Abdul Fatawu Issahaku
Farès Chaïbi
Mohammed Diomande
Let us learn about each player's FIFA 23 stats.
1. Amad Diallo
In FIFA 23, only a few African young players possess the combination of talent and potential displayed by Amad Diallo with a rating of 73, Diallo's true value lies in his extraordinary potential, which stands at a staggering 85.
Diallo has embarked on a great career with Sunderland in the England Championship league. At the tender age of 19, he has already won the hearts of football fans.
Diallo's left foot is his weapon of choice, allowing him to breathtaking and unleash pinpoint accuracy with four skill moves and four weak foot capabilities, he maneuvers through defenses effortlessly.
His high/medium work rates embody his drive, as he relentlessly surges forward to create scoring opportunities.
With a height of 173 cm (5'8″) and weighing 67 kg (148 lbs), Diallo may not tower over his opponents, but his compact build grants him remarkable agility and pace.
The virtual pitch becomes his playground as he outpaces defenders and leaves them trailing.
While Diallo's virtual avatar may not bear his exact likeness, his absence of a real face in-game does nothing to diminish his impact. Diallo has got this artistry that differentiates him from every other player on the list, his traits.
Honestly, all of his attributes and skills paint a vivid picture of his potential on the field.
Is it his extraordinary vision or exceptional ball control? These attributes provide a foundation for his creative playmaking abilities.
As Diallo continues to refine his game, his current value of €7 million and modest wage of €8.6K belie his true worth.
With each match, Diallo inspires fans, instills fear in his opponents, and reminds us that he is one of the most exciting young African players in the game.
READ ALSO: World's Biggest Football Stadiums By Capacity (Top 10)
2. Bilal El Khannouss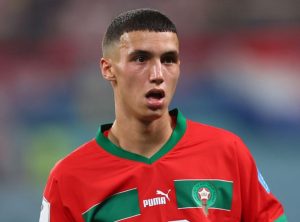 The Moroccan maestro is a special talent in FIFA 23, and El Khannouss is one of the most promising young African players in the game. He plays as a center-attacking midfielder for the KRC Genk in the Belgian Pro League where he displays his qualities.
In FIFA 23, El Khannouss boasts a rating of 70, indicating his current level of performance. However, it is his potential rating of 85, representing a staggering 17-point growth, that truly shows his talent.
El Khannouss unveils new layers to his game whenever he touches the ball either in a match or a training session. He is the kind of player who thrives on creativity and attacking prowess.
His medium attacking work rate emphasizes his drive to initiate and contribute to the team's offensive play.
While his defensive work rate may be low, it allows him to focus primarily on orchestrating attacks and unlocking opposing defenses with his passing abilities. Within FIFA 23, El Khannouss's attributes further highlight his prowess on the virtual pitch.
He possesses the tools to influence the game, and his technical proficiency allows him to glide past opponents with ease.
Additionally, his impressive dribbling skills and accurate pass make him a great guy in the attacking third. However, his inclusion in FIFA 23 as a prominent player for Morocco is a big one for his growth.
READ ALSO: Manchester City 2023 Players Wages And Salaries
3. Abdul Fatawu Issahaku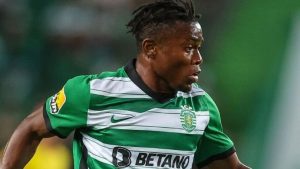 I have watched Abdul Fatawu Issahakuplays in a couple of games for Sporting CP in the Portuguese Primeira Liga, and I must say that I'm impressed with his performance.
He is a center-attacking midfielder with an identity, Sporting CP have got a real gem in their team. He is a promising Ghanaian talent.
However, Issahaku's rating of 69 in FIFA 23 is not too bad, his potential rating of 85 truly tells about his extraordinary talent. As he continues to develop his skills, I eagerly await his future achievements.
Because this boy, Issahaku possesses a unique playing style that combines attacking flair with a tireless work ethic.
His high attacking work rate demonstrates his hunger to influence matches with his creative playmaking and goal-scoring abilities.
At just 18 years old, his power free-kick trait adds another dimension to his game, making him a potent threat from dead-ball situations. Issahaku's maturity and composure are beyond his age.
READ ALSO: Manchester United 2023 Player Wages And Salaries
4. Farès Chaïbi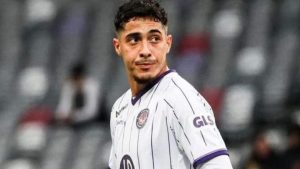 One aspect of Farè's game is his versatility and dynamic style of play. He is an Algerian talent who is currently playing as a right midfielder for Toulouse Football Club in the French Ligue 1.
Since joining the club in 2022, Chaïbi has established himself as one of the best young African footballers, producing amazing performances even at the age of 19.
His team, Toulouse, is aware of Chaïbi's potential, securing his services with a release clause of €8,700,000 and a contract valid until 2025.
The club's investment in Chaïbi underlines their belief in his abilities and their commitment to his long-term development. In FIFA 23, Chaïbi boasts a rating of 72, reflecting his current skill level.
Chaïbi's playing style is characterized by a high attacking work rate and a high defensive work rate, showing his energy and all-round contributions. Whether orchestrating attacks or tracking back to support the defense, he is a plus.
His technical qualities, passing accuracy, and vision allow him to create goal opportunities for his teammates. Despite his attacking skills, Chaïbi's high defensive work rate ensures that he contributes to the team's defensive efforts.
His tenacity and ability to win back possession make him a formidable presence on both ends of the pitch. He is the kind of modern-day footballer that prevents the opposition from doing magic with his all-round qualities.
Being among the young African wonders in FIFA 23 is proof of his talent and potential.
READ ALSO: Top 5 Best Football Teams In The World (2023 Ranking)
5. Mohammed Diomande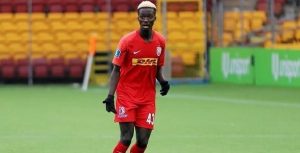 This Côte d'Ivoire reminds me of Zizou with his elegant style of play, and I can tell, I see him up there with the best.
He is a rising central midfielder with lots of great potential as I have seen him explore his qualities for FC Nordsjælland in the Denmark Superliga.
In FIFA 23, Mohammed Diomande personifies the artistry and finesse of a modern midfield maestro. Diomande's rating in FIFA 23 currently stands at 67, and his potential rating of 79.
He is a silky left-footed player with a preference for his dominant foot, Diomande shows finesse and control on the virtual pitch.
He possesses the technical ability to outwit opponents with three skill moves and three weak foot abilities. Diomande's physical attributes are a plus for him which has helped him perform at his best.
He is 183cm tall and weighs 75kg (165 lbs), he possesses the physical presence to dominate midfield battles. His lean body type allows for agility and fluid movement, complementing his technical skills.
His inclusion in FIFA 23 further highlights his potential and he can be a great baller if he wants to though it is not for free.
READ ALSO: Top 5 Goalkeepers With Most Clean Sheets In Premier League History
Conclusion
These amazing African wonder kids mentioned are arguably the best in FIFA 23.
They have proven records of great performances even at a tender age for their team, and they are representing that also on the virtual field.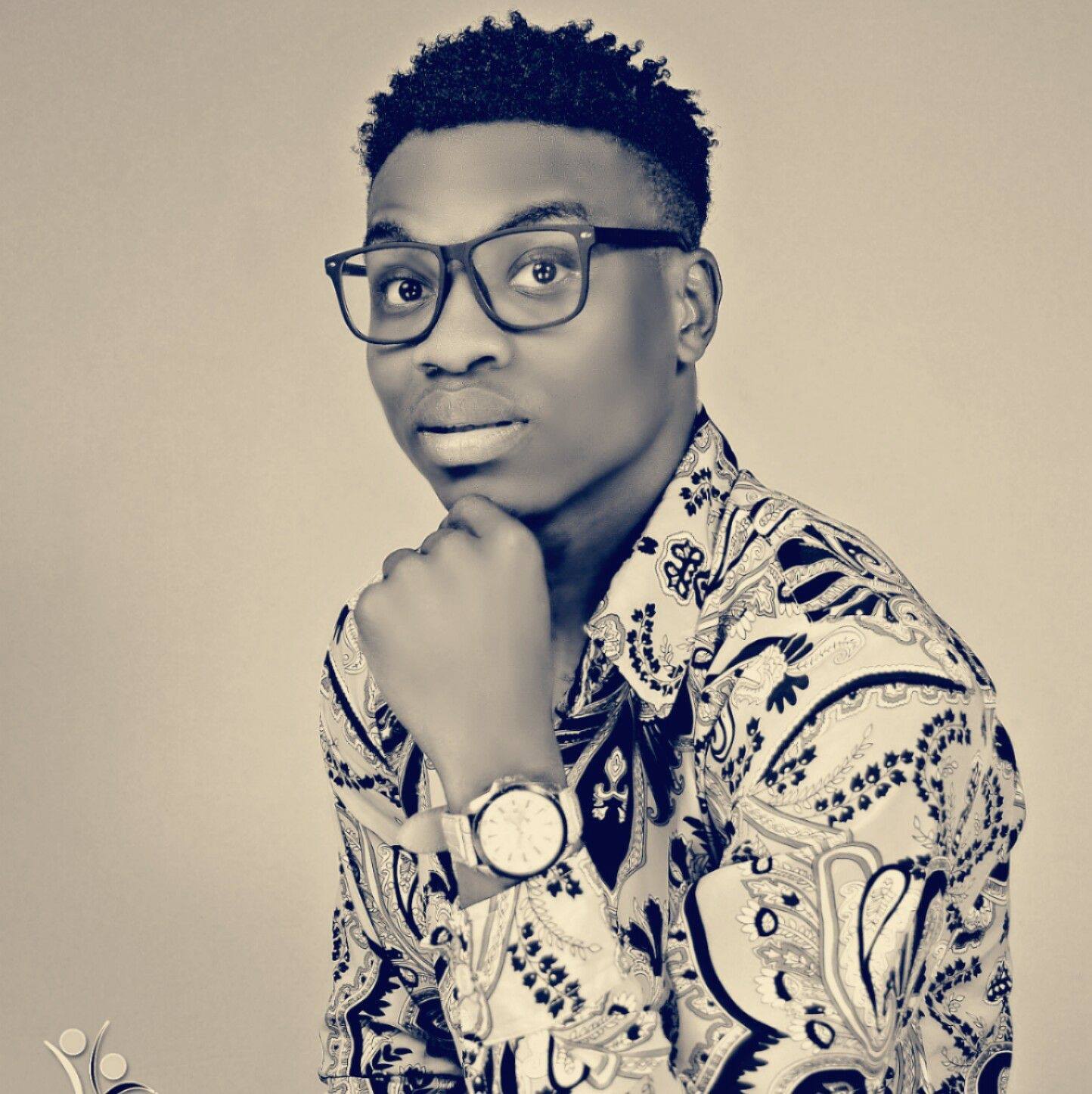 Pataka is a consistent and avid follower of the round leather game. He communicates his passion by editing soccer posts for various soccer platforms.