This is the ultimate ranking of Benfica's best players of all time. Sport Lisboa e Benfica, founded in 1904, is a Portuguese professional football team in São Domingos de Benfica, Lisbon.
They participated in the inaugural edition of the Campeonato de Lisboa in 1906 and won their first title in 1910. In 1930, they emerged as champions in the Campeonato de Portugal, a national knockout competition.
However, Benfica has since won a record 38 Primeira Liga titles. They also achieved European success winning the European Cup in consecutive years, 1961 and 1962. They are one of the biggest football clubs and the most successful team in the Portuguese league.
That said, Benfica football club didn't achieve all of these successes without some players who have achieved and delivered amazing feats for the club.
READ: 10 Best Norwegian Soccer Players Of All Time
Over 750 players have represented Benfica in first-team matches, with nearly 150 players making at least 100 appearances.
Six former players, including Fernando Caiado, José Augusto, Toni, Artur Jorge, Shéu, and Fernando Chalana, later became first-team managers.
Nené holds the record for the most appearances, playing 575 matches over 18 years. António Veloso and Luisão follow closely with 538 appearances each.
However, In this post, we will be ranking Benfica's top players of all time with appearances plus the highest goal recorded.
Benfica Best Players Of All Time
Eusébio
José Águas
Nené
José Torres
Arsénio Duarte
Rogério Pipi
Julinho
Please note, this list is accordingly in terms of goals they recorded for Benfica. However, in general, you will learn about these players:
Country
Age
Clubs they played for
Number of appearances, and goals they recorded for Benfica
And lots more.
READ: 10 Best French Players Of All Time
1. Eusébio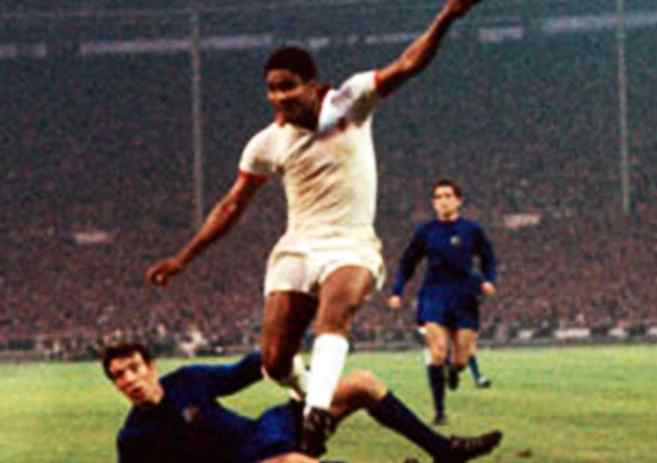 Eusébio da Silva Ferreira, known as the "King", was a Portuguese footballer who played as a striker. He is regarded as one of Benfica's best players ever, and with 440 appearances, and 473 goals scored, Eusébio is Benfica's all-time goal scorer.
Eusébio possessed speed, technique, athleticism, and a powerful right-footed shot, leading to an impressive goal-scoring record of 733 goals in 745 matches.
His international achievements include helping Portugal secure third place in the 1966 FIFA World Cup, where he emerged as the tournament's top scorer with nine goals. Eusébio won the Ballon d'Or in 1965 and finished as the runner-up in 1962 and 1966.
At Benfica, he remains the all-time leading goal scorer with 473 goals in 440 competitive matches. During his spell, Benfica won eleven Primeira Liga titles and a European Cup, reaching the final in 1963, 1965, and 1968.
He is the second-highest goalscorer in the pre-Champions League era of the European Cup, netting 48 goals. Eusébio won the European Cup top scorer title in 1964-65, 1965-66, and 1967-68.
He also won the Bola de Prata award for the Primeira Liga's top scorer a record seven times. In 1968 and 1973, he became the first player to win the European Golden Boot.
Pelé included Eusébio in his FIFA 100 list of the greatest living footballers, and he ranked seventh in the online poll for the UEFA Golden Jubilee.
In 2003, UEFA selected him as the Golden Player of Portugal in celebration of their jubilee, acknowledging him as the nation's most outstanding player of the past 50 years.
2. José Águas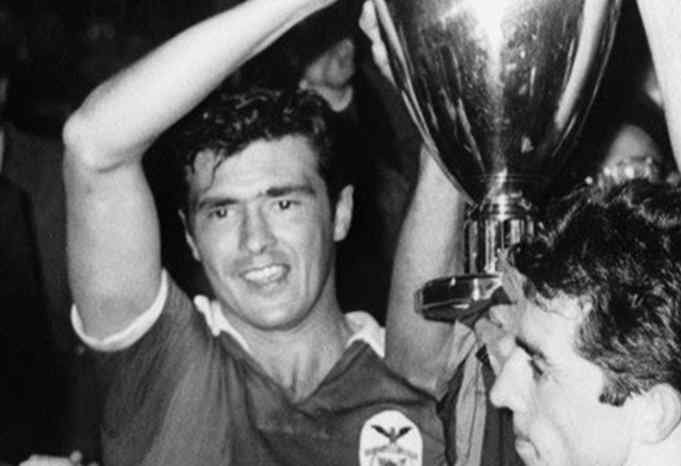 José Águas, known as "Golden Head", enjoyed a remarkable career at Benfica, where he consistently showed his goal-scoring prowess, never scoring fewer than 18 goals in 12 of his 13 seasons in the first division.
Born in Luanda, Portuguese Angola, Águas began his football journey with Lusitano do Lobito before joining Benfica in 1950, where he achieved legendary status.
During his time at Benfica, Águas made an impressive 383 appearances for the club and scored a total of 379 goals, winning the Primeira Liga five times and the domestic cup seven times.
Plus, he was the league's top scorer on five occasions. Before Eusébio's arrival, Águas played an important role in Benfica's consecutive European Cup triumphs in 1961 against FC Barcelona and in the following season against Real Madrid.
He scored the opening goal in both finals and served as the club captain. Unfortunately, Benfica fell short of a third consecutive European Cup victory in the 1963 final against A.C. Milan, a match Águas did not participate in.
READ: The 10 Best Brazilian Soccer Players Of All Time
3. Nené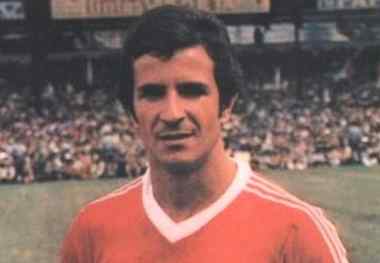 Nené, born Tamagnini Manuel Gomes Batista on 20 November 1949, is a former Portuguese professional footballer who was a prolific striker during his days.
He spent his entire career with Benfica, playing in almost 600 official matches for the club and winning 19 titles, which stood as a record for several years.
Nené represented Portugal in 66 matches, scoring 22 goals, and notably participated in the Euro 1984 tournament. He made his professional debut with Benfica in 1968 and remained a key player for the club until his retirement at the age of nearly 37.
In the 1972-73 season, Nené played a pivotal role in Benfica's Primeira Liga championship-winning side, which went undefeated, winning 28 out of 30 matches and scoring a club-record 101 goals, breaking the century mark for only the second time in Benfica's history.
In addition to being named the Portuguese Footballer of the Year in 1971 and finishing as the runner-up in 1972 (competing with his teammate Eusébio), Nené ranked second in Benfica's European competition goal-scoring charts with 28 goals in 75 appearances.
He also appeared in the 1982-83 UEFA Cup finals, although Benfica suffered an aggregate loss to R.S.C. Anderlecht. In his career, Nené won 11 national championships with Benfica with an incredible 575 appearances and recorded 360 goals for Benfica.
4. José Torres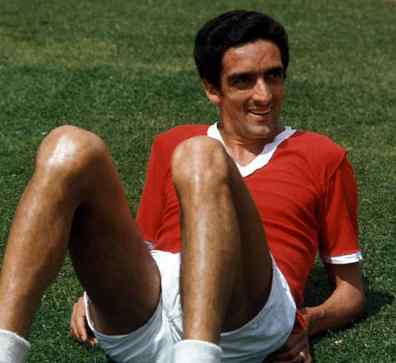 José Augusto Costa Sénica Torres, nicknamed "The Kind Giant" had a successful career, mostly with Benfica, where he won 13 major titles in 21 years.
In his 21 seasons in the Primeira Liga, he recorded impressive statistics, including 374 games and 217 goals scored for Benfica. Also, Torres represented the Portugal national team in two World Cups, one as a player and the other as a manager.
Although he had limited playing time in his early years, he proved his goal-scoring abilities by scoring six Primeira Liga goals in six games.
In the 1962-63 season, he was the league's top scorer with 26 goals in just 21 appearances and helped Benfica reach the Taça de Portugal final.
During this period, Torres alongside notable attacking partners such as José Augusto, Mário Coluna, Eusébio, and António Simões, guided Benfica to three European Cup finals.
At the age of 33, Torres left Benfica and moved to Vitória de Setúbal as part of a transfer deal. He continued to contribute with an average of 13 goals per season and even took on the role of player-coach in 1975.
Torres finished his playing career at G.D. Estoril Praia, retiring at the age of 42.
READ: 10 Best Football Goal Celebrations Of All Time
5. Arsénio Duarte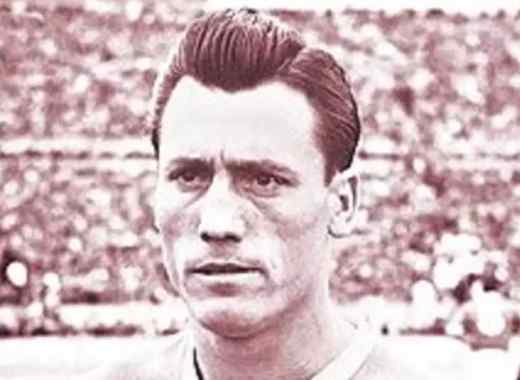 Arsénio Trindade Duarte was a Portuguese forward who had a successful football career with Benfica. He played 16 seasons in the Primeira Liga with an impressive stats of 313 games and 211 goals.
Arsénio began his career with F.C. Barreirense, making his senior team debut at the young age of 15. After helping Barreirense win the Segunda Liga championship in 1943, he joined Benfica.
During his time at Benfica, Arsénio scored a remarkable 360 goals in 446 competitive games.
His famous performances include a hat-trick in a 7–2 victory over Sporting in 1946 and five goals against FC Porto during the inauguration of the Estádio das Antas.
With Benfica, Arsénio contributed to the club's success by winning ten major titles, including three Primeira Liga trophies.
However, when manager Otto Glória arrived and initiated the professionalization process at the club, Arsénio decided to leave for G.D. CUF.
6. Rogério Pip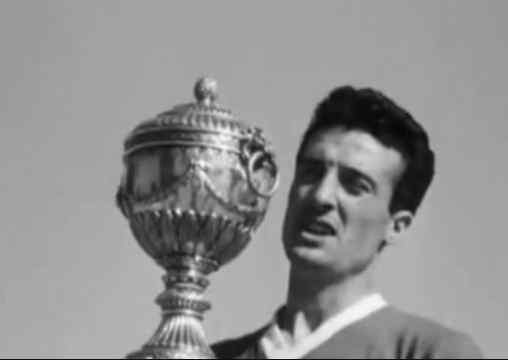 Rogério Lantres de Carvalho is another Portuguese forward who enjoyed a successful football career at Benfica. In 1942, he joined Benfica, where he spent 12 seasons, except for a brief period in 1947 when he played for Botafogo in Brazil.
He made 310 appearances for the club, scoring an impressive 210 goals, and also holds the record for being the top scorer in Portuguese cup finals, with a total of 15 goals.
He was one of the players affected by Otto Glória's push for professionalism at Benfica.
In 1954, Carvalho left the club because he didn't want to give up his job, and he finished his career at Oriental, another local club.
Carvalho achieved great success, and he is one of Benfica's top players of all time, winning three league titles, six Portuguese cups, and one Latin Cup.
READ: Ranking Mexico's 10 Best Soccer Players Of All Time
7. Julinho
Julinho began his career at Boavista F.C. and made his debut for the first team at the age of 15.
After a brief stint at Académico F.C., he attracted the attention of S.L. Benfica, who signed him in 1942, despite receiving better offers from FC Porto.
At Benfica, Julinho formed a formidable attacking line with Mário Rui, Espírito Santo, Rogério Pipi, and Arsénio, collectively known as "Os Cinco Diabos Vermelhos" (The Five Red Devils).
He was a center forward but also capable of playing as an inside forward, he scored over 150 league goals in his eight seasons with the club, contributing to three league title victories.
Julinho had notable performances, including scoring four goals in a 12-2 victory over Porto in 1943 and six goals in a 13-1 win against A.D. Sanjoanense in 1947.
He also scored the winning goal in the Latin Cup final against FC Girondins de Bordeaux in 1950. With 205 goals in 200 matches, he remains the seventh-highest goalscorer in Benfica's history.
Enough Said;
There you have Benfica's best players of all time, and these players are the highest goal scorers in Benfica's football history.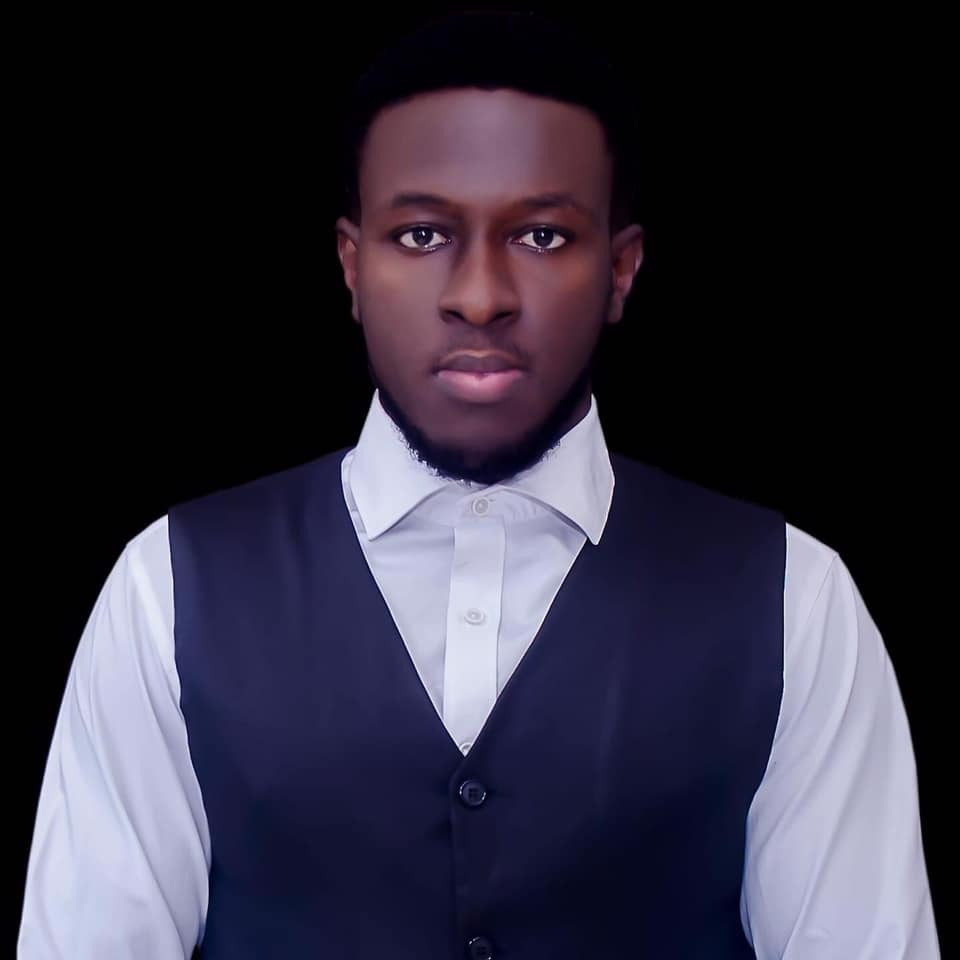 Kenneth is a an avid soccer follower, fan and writer. He is a consistent follower of the sport and is a fan of Chelsea FC.