In this post, we will talk about the top 10 best female goalkeepers in the world ( 2023 ).
The art of goalkeeping knows no boundaries, and women have proven their abilities as great guardians of the net.
As they hold an important role in football, they need to be appreciated for their incredible performances.
However, if you want to know who is the best women's goalkeeper in the world, you need to be with this post.
Top 10 Best Female Goalkeepers In The World
Mary Earps
Stephanie Labbé
Christiane Endler
Sarah Bouhaddi
Sari van Veenendaal
Hedvig Lindahl
Ann-Katrin Berger
Manuela Zinsberger
Merle Frohms
Kailen Sheridan
Let's get to know them.
1. Mary Earps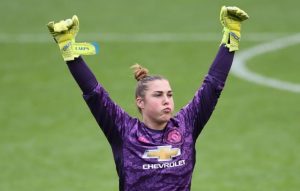 Mary Alexandra Earps, born on March 7, 1993, is an incredible English professional footballer who has earned her place among the world's best female goalkeepers.
Currently representing Manchester United in the Women's Super League and the England national team, Earps boasts an impressive career.
She has previously proved her skills at various FA WSL clubs, including Bristol Academy, Birmingham City, Doncaster Belles, and Reading. Earps also gained experience in the Bundesliga with VfL Wolfsburg.
Her journey in international football is equally notable, with appearances at the under-17, under-19, and under-23 levels before earning her first senior cap in 2017.
She began her professional career at Leicester City before moving on to Nottingham Forest and Doncaster Rovers Belles.
Birmingham City and Bristol Academy were also privileged to have her talents on their teams. Also, Earps did so well during her time at Reading, securing a place in the PFA Team of the Year.
She later joined the formidable VfL Wolfsburg, where she contributed to the team's consecutive domestic double victories.
In a return to England, Earps signed with Manchester United, helping the club secure a second-place finish in the Women's Super League and qualify for the UEFA Women's Champions League for the first time.
On the international stage, she displayed her abilities at the UEFA Women's Under-19 Championship in 2012 and played a crucial role in Great Britain's gold medal victory at the 2013 Summer Universiade.
Her senior national team debut came in a FIFA Women's World Cup qualification match against Montenegro.
Earps earned a spot in England's squad for the FIFA Women's World Cup in 2019, and also during UEFA Women's Euro 2022, playing every minute of all six matches as England triumphed and secured their first-ever Euro title.
READ ALSO: Top 11 Soccer Players With Long Hair – 2023
2. Stephanie Labbé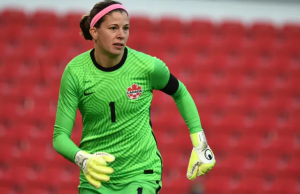 Stephanie Lynn Marie Labbé is a Canadian retired professional soccer player who had an impressive career, and she is considered one of the best female goalkeepers in football.
Labbé's career began at the University of Connecticut, where she joined the women's soccer team in 2004. She played all 22 games and recorded an impressive 0.61 goals against average.
However, she joined Piteå IF in Sweden, playing an important role in their rise to Damallsvenskan, the country's highest league.
Labbé later moved to KIF Örebro, and she won a silver medal in the Swedish top division. Also, she played a crucial role in Canada's bronze medal win at the 2016 Rio Olympics.
Her stellar performances led to her being named the starting goalkeeper for Canada's national team in tournaments, including the 2020 Summer Olympics, where she played a key role in their gold medal triumph.
Labbé's composure and talent were on full display during the penalty shootout in the final, conceding only two goals. In 2022, she announced her retirement from professional soccer.
3. Christiane Endler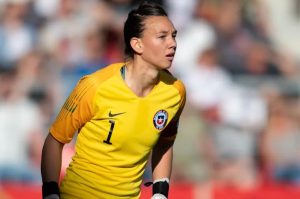 Claudia Christiane Endler Mutinelli currently plays for Division 1 Féminine club Lyon and represents the Chile national team.
She has played for Colo-Colo, Valencia, Paris Saint-Germain, and now Lyon. Endler is one of the top goalkeepers in the women's game. Her performances have led to numerous accolades and nominations.
In both 2019 and 2020, she was among the three finalists nominated for the Best Women's Goalkeeper at the Best FIFA Football Awards, finishing as the runner-up on both occasions.
However, her extraordinary performances were finally rewarded in 2021 when she clinched the award.
Endler's journey to becoming a great goalie began in 2009 when she participated in the inaugural edition of the Copa Libertadores Femenina.
The following year, she reached her first Copa Libertadores final with Everton de Viña del Mar, making history as the first-ever Chilean team to reach the final of an international women's tournament.
Endler's team narrowly missed out on the title, conceding a goal in the 89th minute, and Santos emerged as the champions. In 2011, after impressing at the Copa America, Endler joined Colo-Colo, a prominent Chilean team.
She participated in the Copa Libertadores final in consecutive years with Colo-Colo. These experiences helped shape her career.
Endler's hunger for success led her to return to Chile and reunite with Colo-Colo, where she regained her confidence and love for the game.
During this time, she celebrated success, winning the Campeonato Apertura and reaching her fourth Copa Libertadores final in 2015.
In 2017, Paris Saint-Germain (PSG) came calling, recognizing Endler's immense talent, and she signed a three-year contract with the French club.
READ ALSO: Top 8 Greatest Football Managers Of All Time ( 2023 Ranking )
4. Sarah Bouhaddi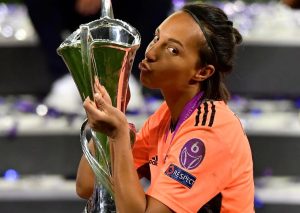 Sarah Bouhaddi currently plays for Division 1 Féminine club Paris Saint-Germain.
She had an impressive 13 seasons with Lyon, where she established herself as one of the best goalkeepers in women's football.
However, on September 16, 2022, Bouhaddi moved to Paris Saint-Germain, signing a one-year deal. Alongside her remarkable club performances, Bouhaddi has also made an impact on the international stage.
Bouhaddi made her debut for the France national team in 2004.
Her skills were on full display during the 2012 Summer Olympics, where she played a pivotal role in France's campaign, featuring in every match as they secured an impressive fourth-place finish.
However, in 2020, Bouhaddi decided to pause her international career, temporarily stepping away from the national team.
5. Sari van Veenendaal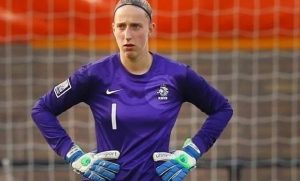 Sari van Veenendaal, known for her goalkeeping abilities and leadership skills is a former Dutch professional footballer.
Van Veenendaal began her professional career in 2007 with FC Utrecht, where she initially understudy Angela Christ. Her skills caught the attention of Twente, leading to a move in 2010.
During her tenure with the Tukkers, Van Veenendaal celebrated lots of victories, including winning the Eredivisie in the 2010-11 season and securing the BeNe League titles in 2013, 2014, and 2015.
In 2015, Van Veenendaal embarked on an exciting chapter in her career, signing for the renowned English club Arsenal. Her arrival added strength and stability to the team's defense, leading to immediate success.
In her first season with Arsenal, she played an instrumental role in the team's triumph in the 2015 FA WSL Cup.
And the following season, she helped them secure the 2016 FA Women's Cup with a 1-0 victory over Chelsea in the final.
She led Arsenal to another FA WSL Cup victory in the 2017-18 season, where she recorded an outstanding clean sheet in the final against Manchester City Women.
Van Veenendaal's talents were in high demand, and in July 2019, she left Arsenal to join Atlético Madrid, adding experience to her career.
Later, in May 2020, she made a move to PSV, joining the club on a free transfer.
In July 2022, Van Veenendaal made the difficult decision to retire from professional football. Her retirement marked the end of an era, but her impact on the game will forever be remembered.
READ ALSO: 10 Best Norwegian Soccer Players Of All Time
6. Hedvig Lindahl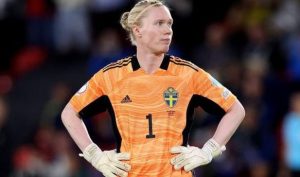 Hedvig Lindahl is a Swedish professional footballer who has established herself as one of the best female goalkeepers in the world.
With her skills, Lindahl has been impressive both at the club level and internationally. Lindahl's career has seen her play for several top clubs in Swedish women's football.
She has played for renowned Damallsvenskan clubs such as Malmö FF, Linköpings FC, Kristianstads DFF, and Kopparbergs/Göteborg FC.
Since making her international debut in 2002, Lindahl has amassed over 190 caps for Sweden.
On August 3, 2014, she celebrated her 100th cap for Sweden in a match against England, marking a milestone in her career.
Lindahl's exceptional performances between the posts have made her an integral part of Sweden's success at major tournaments, including the UEFA Women's Championship, the FIFA Women's World Cup, and the Olympic Games.
She has been recognized as the Swedish women's goalkeeper of the year on numerous occasions, winning the award in 2004, 2005, 2009, 2014, 2015, 2016, 2017, 2018, and 2019.
In 2015, she was honored with the Diamantbollen Award, given to the Most Valuable Player in the Damallsvenskan. Lindahl's talent was further highlighted by her stint at Chelsea in the English FA WSL.
Her contributions to the team's success were rightfully recognized as one of the best in the league, earning a spot in the WSL Team of the Year.
7. Ann-Katrin Berger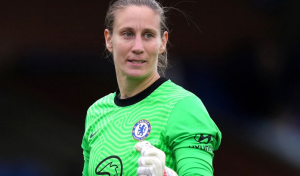 Ann-Katrin Berger is a German professional goalie, and she is one of the best female goalkeepers in the world. I appreciate her shot-stopping abilities, I mean it is exceptional.
Berger's career began at a young age when she started playing for KSG Eislingen at the age of four. Initially, she played in various positions like a striker, midfielder, and defender.
However, at the age of 16, she switches to goalkeeping, finding her true calling between the posts. She started her professional career in 2007, climbing the ranks to play in the Oberliga Baden-Württemberg.
Later, she joined VfL Sindelfingen, a second-division side, before signing a three-year contract with 1. FFC Turbine Potsdam in the Frauen-Bundesliga, Germany's top division.
Her impressive debut for Potsdam included a clean sheet against Hamburger SV. In 2014, Berger made a move to Paris Saint-Germain, where she played a crucial role for the team for two years.
However, her career took an unexpected turn when she was diagnosed with thyroid cancer in November 2017. Just a few months later, in February 2018, she made a return to the field.
Berger's comeback was recognized as she was honored with the PFA Team of the Year Award for her outstanding performances during the season.
She also proved herself as a top goalkeeper when she joined Birmingham City, helping the team secure a fourth-place standing in the 2018-19 FA WSL season.
On January 4, 2019, Berger joined Chelsea, and she became an integral part of the team's success. Her contributions were instrumental in Chelsea winning their fourth WSL title in the 2020-21 season.
Berger's outstanding goalkeeping skills and her ability to keep clean sheets earned her the Golden Glove award.
READ ALSO: What Is A Clean Sheet In Soccer?
8. Manuela Zinsberger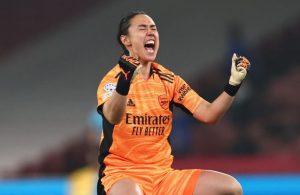 Manuela Zinsberger is a talented Austrian professional footballer and she has an impact on both the international and club level. She sharpened her skills at the LAZ Stockerau and later at the AKA St. Pölten.
In the 2011/12 school year, she joined the newly established National Center for Women's Football in St. Pölten to help her development. In 2017, she was recognized as the Austrian of the Year in the international success category by Die Presse.
And In December 2020, Zinsberger recorded another milestone by becoming the first goalkeeper to be named Austria's Footballer of the Year.
Zinsberger's club career has been equally impressive, with notable contributions to different teams.
She started her career with USVG Großrußbach in the Lower Austrian state league, where she announced her talent with several clean sheets.
Then she moved to SV Neulengbach in the ÖFB-Frauenliga, making her debut shortly after her 15th birthday.
In 2014, Zinsberger made a move to FC Bayern Munich, signing a three-year contract, and she made her mark, impressing both with the second team and the first team.
She made her Bundesliga debut in a goalless draw against SGS Essen and secured a crucial victory for her team by saving a penalty against SC Freiburg.
After a successful tenure with Bayern Munich, Zinsberger decided to join Arsenal WFC in the English Women's Super League for the 2019/20 season.
At Arsenal, Zinsberger established herself as the first-choice goalkeeper, and she played a vital role in several victories, including the London derby against Chelsea, which set a record attendance of 38,262 attendants.
Zinsberger kept a clean sheet in that game.
Additionally, she played a crucial role in Arsenal's journey in the UEFA Women's Champions League, helping the team reach the quarter-finals.
In recognition of her impressive performances, Zinsberger was awarded the Golden Glove for the 2021/2022 Women's Super League season, having achieved an impressive 13 clean sheets.
9. Merle Frohms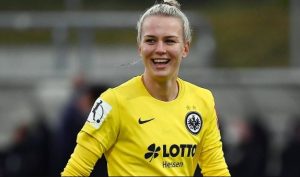 Merle Frohms is another gifted German professional footballer who has proven herself to be one of the best goalkeepers in women's football.
Frohms currently plays for Frauen-Bundesliga club VfL Wolfsburg and represents the German national team. Frohms' club career began with Fortuna Celle, where she played alongside boys until 2011.
In her first season at VfL Wolfsburg, Frohms was part of the second team but didn't see play.
However, on December 9, 2012, she made her debut for the main club in a convincing 3–0 victory against FSV Gütersloh 2009.
The following season, Frohms was promoted to the second team and featured in sixteen matches in the 2. Frauen-Bundesliga, helping the team secure a third-place finish.
In the 2014–15 season, Frohms' contract was extended for two more years, with the club's sports director, Ralf Kellermann, recognizing her goalkeeping potential.
During this period, she made three more appearances for the club, including a start in the Champions League semi-final against Paris Saint-Germain.
After spending two additional years with Wolfsburg, Frohms made a move to SC Freiburg. In her first season with Freiburg, she recorded 18 games.
In 2020, Frohms joined Eintracht Frankfurt, becoming the club's first signing following its merger with 1. FFC Frankfurt. And now, she is currently exploring these experiences in her current team, VfL Wolfsburg.
READ ALSO: Why Are Soccer Balls Black And White?
10. Kailen Sheridan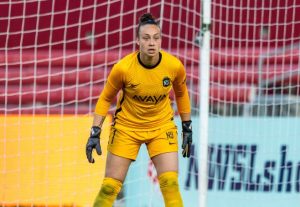 This Canadian professional goalkeeper is currently making waves for the National Women's Soccer League (NWSL) club, San Diego Wave, while also representing the Canadian national team.
From 2013 to 2016, under the coach Eddie Radwanski, Sheridan made an impressive 76 appearances for the Tigers. Her contributions were outstanding, as she recorded 229 saves and an impressive tally of 28 shutouts.
Sheridan was named to the All-ACC first team in both 2014 and 2015, becoming the first Tiger to receive such honors since 2007.
After her successful college career, Sheridan started a professional career with a stint at the Toronto Lady Lynx in 2013.
However, it was in January 2017 that her true breakthrough came when she was selected as the 23rd overall pick by Sky Blue FC at the NWSL College Draft.
In the 2018 season, she started and played in nearly all of the club's games, leading the league with an impressive average of 7.38 goals per game.
Her performances continued into the 2019 season, where she won back-to-back NWSL Saves of the Week in weeks 2 and 3. She emerged as a finalist for the NWSL Goalkeeper of the Year award in both 2019 and 2021.
In December 2021, after spending five seasons in New Jersey, Sheridan embarked on a new chapter in her career, joining the NWSL expansion club San Diego Wave.
Conclusion
That's my top 10 best female goalkeepers in the world.
Some of these players are currently active while some have called off their careers, but in all, they have proven to be the best in women's football with impressive performance, and amazing honors.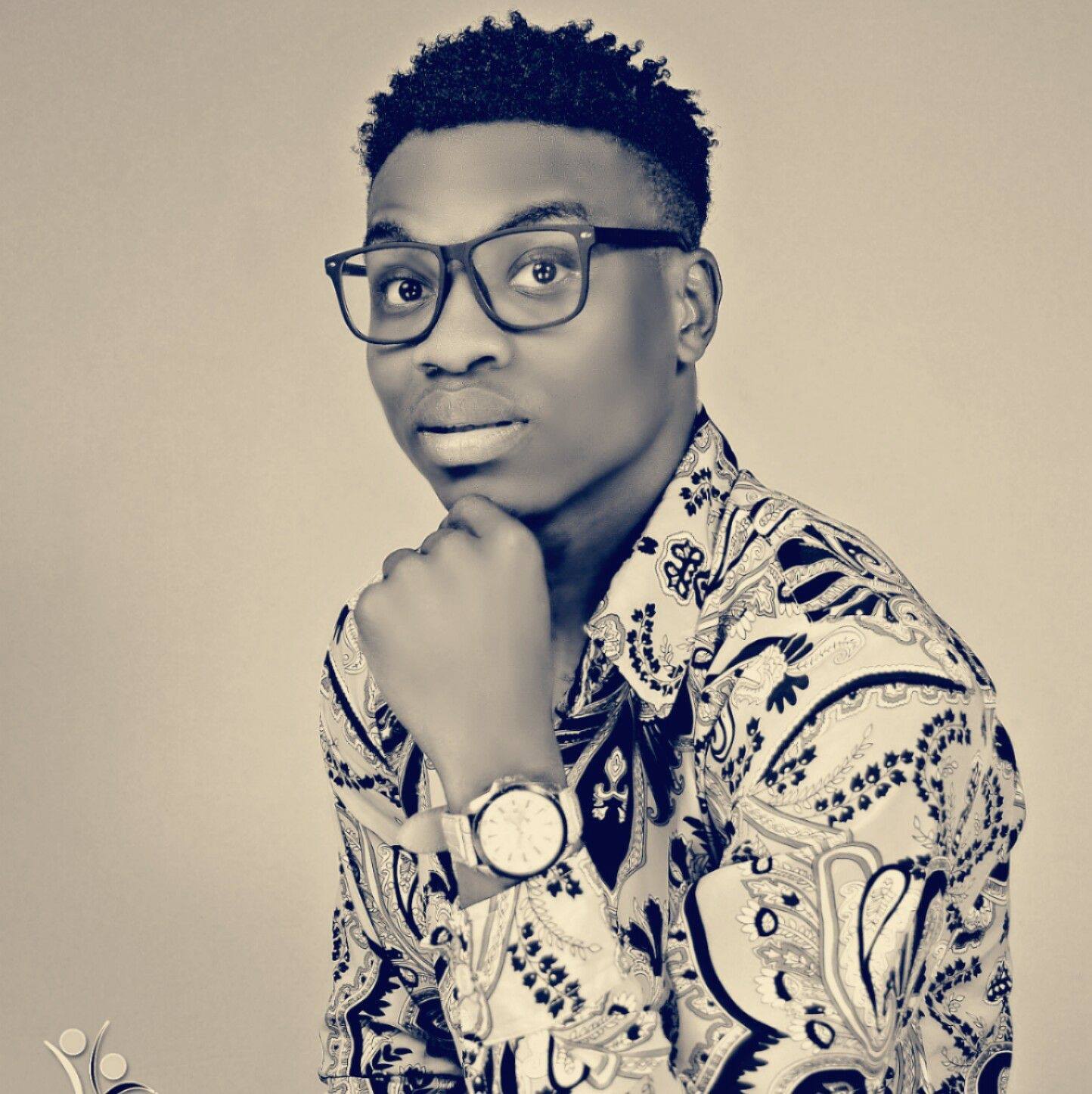 Pataka is a consistent and avid follower of the round leather game. He communicates his passion by editing soccer posts for various soccer platforms.