This is the complete list of the current Premier League managers and assistant coaches in 2023/2024. The Premier League is the top tier of English football and it involves 20 clubs.
Many great managers have come and gone, and in that space, some have managed more than one team. The current longest-serving football manager in the Premier League is Liverpool manager, Jurgen Klopp.
He has been at the club since 8, October 2015 till the time of writing this post. That said,
READ ALSO: Top 5 Youngest Premier League Managers In 2023
List Of Current Premier League Managers And Head Coaches For The 2023-2024 Season
| Number | Manager/Head Coach | Nation | Club |
| --- | --- | --- | --- |
| 1 | Jürgen Klopp | Germany | Liverpool |
| 2 | Pep Guardiola | Spain | Manchester City |
| 3 | Thomas Frank | Denmark | Brentford |
| 4 | Mikel Arteta | Spain | Arsenal |
| 5 | David Moyes | Scotland | West Ham United |
| 6 | Marco Silva | Portugal | Fulham |
| 7 | Steve Cooper | Wales | Nottingham Forest |
| 8 | Eddie Howe | England | Newcastle United |
| 9 | Paul Heckingbottom | England | Sheffield United |
| 10 | Erik ten Hag | Netherlands | Manchester United |
| 11 | Vincent Kompany | Belgium | Burnley |
| 12 | Roberto De Zerbi | Italy | Brighton & Hove Albion |
| 13 | Unai Emery | Spain | Aston Villa |
| 14 | Rob Edwards | Wales | Luton Town |
| 15 | Sean Dyche | England | Everton |
| 16 | Roy Hodgson | England | Crystal Palace |
| 17 | Mauricio Pochettino | Argentina | Chelsea |
| 18 | Ange Postecoglou | Australia | Tottenham Hotspur |
| 19 | Andoni Iraola | Spain | Bournemouth |
| 20 | Gary O'Neil | England | Wolverhampton Wanderers |
1. Jürgen Klopp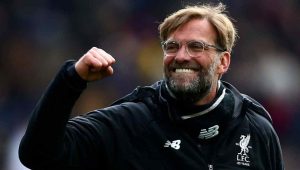 Klopp is currently the longest serving manager in the Premier League. When we talk about modern football tactics, he is one of the best coaches who owns the plot.
Klopp began his career at Mainz 05 as a player, initially as a striker and later converted to a defender. After retiring in 2001, he became the club's manager, securing Bundesliga promotion in 2004.
Klopp then moved on to manage Borussia Dortmund, winning the Bundesliga title in 2010-11 and leading the team to a record-breaking domestic double.
He joined Liverpool in 2015, securing numerous trophies, including a UEFA Champions League title, a Premier League title, and FIFA Coach of the Year awards in consecutive years (2019 and 2020).
2. Pep Guardiola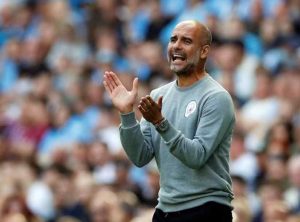 Josep "Pep" Guardiola Sala is a Spanish football manager and former player and is currently the manager of Manchester City in the Premier League.
Many football fans, even pundits Regard him as one of the greatest managers of all time, and Guardiola holds records for consecutive league games won in La Liga, the Bundesliga, and the Premier League.
During his playing career, he was a deep-lying playmaker. Guardiola's career highlights include winning the European Cup with Barcelona in 1992 and leading the team to four consecutive Spanish league titles.
READ: All Muslim Players In The Premier League In 2023
He also achieved immense success as the manager of Barcelona, winning several titles, including the UEFA Champions League.
After a stint with Bayern Munich, Guardiola joined Manchester City and guided them to multiple Premier League titles and domestic records.
The 2022-2023 season has been another great season for his team, most especially in the European competition as they eye UCL glory after crushing Real Madrid in the semi-final stage.
3. Mikel Arteta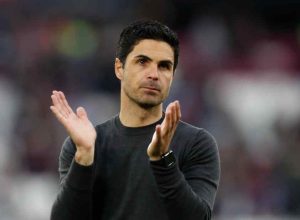 Mikel Arteta Amatriain is another Spanish football manager and former player who currently manages the Arsenal football club. He looks like the real man for the job after having a fantastic 2022/2023 Premier League season.
Arteta began his career at Barcelona before moving to Paris Saint-Germain and Rangers. At Rangers, he won the Scottish Premier League and Scottish League Cup.
Arteta had a successful stint at Everton, where he won Player of the Season twice. He joined Arsenal in 2011 and won two FA Cups with the club as captain until his retirement.
Afterward, Arteta became an assistant coach at Manchester City before returning to Arsenal as head coach, winning the FA Cup in his first year and later being appointed as manager.
This season would have been his best season as Arsenal football club manager, but a bit of poor result at the end of the Premier League campaign cost them the League.
Well, it's not too bad ending the campaign in the second position and securing a Champions League spot.
READ ALSO: Top 8 Greatest Football Managers Of All Time ( 2023 Ranking )
4. David Moyes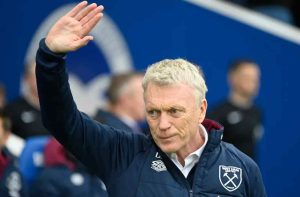 David Moyes had previously managed Preston North End, Everton, Manchester United, Real Sociedad, and Sunderland, and now he is currently the manager of West Ham United.
I wouldn't be wrong if I say his managerial career has been a success, he has been awarded the League Managers Association Manager of the Year three times.
He was once a football player, and he had a career as a center-back, playing for Celtic and Preston North End. Moyes achieved notable feats at Everton, including a fourth-place league finish and qualification for the UEFA Champions League.
After a brief and unsuccessful tenure at Manchester United, he managed Real Sociedad and Sunderland before returning to manage West Ham United for a second time.
5. Marco Silva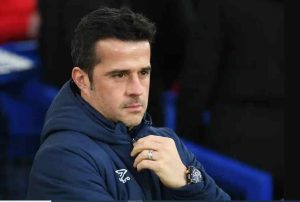 Marco Silva is currently the head coach of Premier League club Fulham. As a manager, Silva led Estoril for three years before a successful season at Sporting CP, winning the Portuguese Cup.
He also achieved success abroad, winning the Super League Greece with Olympiacos in 2015-16. In England, he has managed Hull City, Watford, Everton, and now Fulham.
Silva's coaching journey has been fun across different clubs domestically and internationally, and he has proven his intellect in some big games.
READ: 10 Best Soccer Apps For Football Fans (Android/iPhone Users)
6. Steve Cooper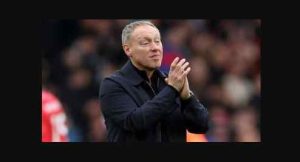 Steve Cooper's journey as the head coach of Championship club Nottingham Forest is a tale of revival and adaptation.
Appointed on September 21, 2021, with Nottingham Forest languishing at the bottom of the division, Cooper embarked on a mission to breathe new life into the team's performance and mentality.
Cooper's impact on Nottingham Forest was deep as he introduced a style of play that encouraged confidence with the ball and a more assertive attacking approach.
Moreover, he fostered a sense of togetherness among the players and instilled what he termed a 'big club mentality.' These changes, both tactical and psychological, turned Nottingham Forest's fortunes around.
The peak of Cooper's tenure at Nottingham Forest started on May 29, 2022, when he led the team to a triumphant 1-0 victory over Huddersfield Town in the Championship play-off final at Wembley Stadium.
This victory secured Nottingham Forest's promotion to the Premier League, marking a historic achievement for the club.
Cooper's dedication was further underlined when he signed a new contract with Nottingham Forest on October 7, 2022, extending his tenure until 2025. There was a time I heard the rumor about his potential sacking, that was when the team was having disappointing results.
Well, club owner Evangelos Marinakis publicly expressed his support for Cooper while emphasizing the need for improved results and performances. Cooper's coaching philosophy is implanted in possession-based football.
He stresses dominating possession, playing forward, and regaining the ball quickly, and we can see his teams exhibit tactical discipline, with a focus on composure and aggression in defense.
READ ALSO: Currently Unemployed Great Managers
7. Thomas Frank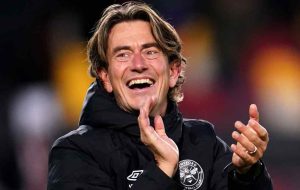 Thomas Frank's term has seen Brentford grow from Premier League survival to a place among Europe's competitive clubs.
Recognizing Frank's contributions, the club extended his contract, alongside his assistant Brian Riemer, for an additional 3½ years on January 21, 2022. In March 2022, he won his second consecutive DBU Coach of the Year nomination.
His prowess was also recognized as he secured nominations for the Premier League Manager of the Month and Manager of the Season awards, fueled by an unbeaten April and a final Premier League standing of 13th.
Frank's tactical ingenuity became apparent during the transition. Despite holding 10% less possession per match than the previous season in the Championship, Brentford adjusted their style.
The focus shifted to capitalizing on set pieces and counterattacks. This adaptation proved fruitful, aiding Brentford's defensive solidity and ability to score crucial goals.
Drawing from F.C. Copenhagen's defensive prowess against top European teams fostered defensive resilience. This approach is impressive as Brentford's performances against formidable opponents hardened.
Thomas secured a record as the Brentford head coach with the most wins in his first 200 matches in October 2022. However, Brian Riemer departed in December 2022, and he was succeeded by Claus Nørgaard.
Frank's collaboration with Nørgaard was no stranger, as they had previously worked together at the DBU and Brøndby IF.
The year-end festivities of 2022 brought a gift for Brentford fans. On Christmas Eve, Frank pledged his commitment with a new 4½-year contract.
The following year started on a high note, with nominations for the Premier League Manager of the Month awards for November/December 2022 and January 2023.
Also In March 2023, he secured another 2022 DBU Coach of the Year award. Brentford's exceptional form in the 2022/2023 season put them in contention for a European spot. A 1–0 victory over Manchester City resulted in a 9th-place finish in the league.
8. Eddie Howe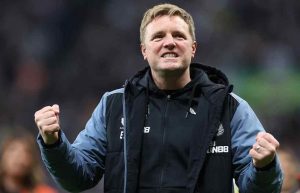 Eddie Howe's career as the head of Newcastle United has been outstanding, bringing the club back into English football. He was appointed to replace Steve Bruce on November 8, 2021, taking charge of a struggling Newcastle United.
Upon his arrival, Howe assembled a coaching staff that combined familiar faces and fresh talent. Retaining Graeme Jones as first-team assistant coach and bringing on Jason Tindall, Stephen Purches, and Simon Weatherstone from his time at AFC Bournemouth.
Howe's appointment also marked a reunion with former players from AFC Bournemouth, including Callum Wilson, Matt Ritchie, and Ryan Fraser.
READ: How To Win More In Football Betting In 2023
The start of Howe's journey was met with trouble as he tested positive for COVID-19, watching his inaugural game from a hotel room.
Despite the challenges, Newcastle drew 3-3 against Brentford. As the 2021-2022 season progressed, Howe guided Newcastle to a 6th successive home win following a victory over Crystal Palace.
The team's stunning change helped them finish in 11th place in the Premier League after an impressive run of 12 wins in the last 18 games.
Newcastle rewarded him with a long-term contract on August 5, 2022, after amazing results. On January 31, 2023, the team secured a place in the EFL Cup final after a 3-1 aggregate victory over Southampton.
This achievement was the club's first cup final appearance in over 23 years. Impressively, Newcastle held Leicester City to a goalless draw to secure a remarkable top-four finish in the Premier League. This feat celebrated Newcastle's return to the UEFA Champions League after a two-decade break.
9. Heckingbottom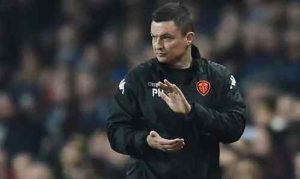 In July 2020, Heckingbottom took on the role of under-23s lead coach at Sheffield United. When first-team manager Chris Wilder departed in March 2021, with Sheffield United facing the abyss of relegation, Heckingbottom took the reins as interim manager.
Despite a challenging start, the team won three of their last six matches. This commendable effort earned Heckingbottom a spot on the shortlist for the permanent position.
Ultimately, Slaviša Jokanović was chosen as the manager, leading Heckingbottom back to his role with the under-23s. In November 2021, Heckingbottom was reappointed as manager, this time permanently, following Jokanović's departure.
And this time started impressively with Sheffield United securing a 2-0 victory over Bristol City. However, they ended the season in fifth place, clinching a spot in the promotion playoffs.
In the 2022-23 season, Heckingbottom's Impressive performances got him the EFL Championship Manager of the Month award for August and September 2022.
READ: Top 10 Best Defenders In MLS History ( 2023 Ranking )
A 2-0 home victory over West Bromwich Albion confirmed their promotion back to the Premier League. As Sheffield United's return to the Premier League was sealed, Heckingbottom's efforts were recognized once again.
He received the Championship Manager of the Month award for April, a fitting tribute to his consistent dedication and success throughout the season. Now, his team is about to take the English Premier League by storm, let's see how the season goes for them.
10. Erik ten Hag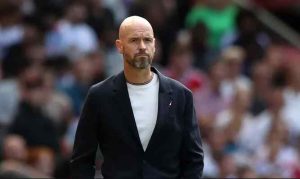 How would you have rated Erik's performances in the Premier League so far? For me, Erik ten Hag has not been bad though because the intention is to build a great team who could dominate domestically, and international competitions like we have seen what Pep and Klopp have done in the last 5-6 years.
However, his time at Manchester United began with challenges as the team's initial Premier League matches saw defeats. Ten Hag became the first United manager since 1921 to lose his first two games in charge.
On August 22, 2022, Manchester United secured an exciting 2-1 victory against arch-rivals Liverpool. This victory ended a longstanding league win drought against Liverpool.
By January 11, 2023, United clinched a convincing 3-0 win over Charlton Athletic in the EFL Cup. This victory established Ten Hag as the fastest Manchester United manager to reach 20 competitive wins, an impressive feat achieved in just 27 games.
The completion of Ten Hag's efforts was on February 26, 2023, as Manchester United triumphed over Newcastle United with a 2-0 victory, securing the EFL Cup.
This victory was the club's first trophy win since 2017. However, the celebration was followed by a record-breaking 7-0 defeat at Anfield. No doubt, Ten Hag's first season at Manchester United yielded great accomplishments.
The club secured a place in the 2023–24 UEFA Champions League by finishing in the top four of the Premier League.
Additionally, they reached the 2023 FA Cup final, although the final victory dodged them as rivals Manchester City clinched a 2-1 win.
READ ALSO: Top 10 Midfielders In The World In 2023
11. Vincent Kompany
Vincent Kompany's appointment as Burnley's manager on June 14, 2022, was an important step in his post-playing career. Taking the EFL Championship club following relegation from the Premier League.
Kompany's managerial debut on July 29, 2022, produced an impressive 1-0 victory over Huddersfield Town.As the 2022-23 season went on, an exceptional October saw Burnley secure five wins and three draws.
Kompany's leadership proved consistent as Burnley maintained their winning ways. He secured the Manager of the Month award for December, maintaining a perfect record.
On April 7, 2023,  Burnley secured promotion to the Premier League with seven matches remaining with a 2-1 victory over Middlesbrough clinched their return to the top flight.
Kompany signed a new contract on May 7, 2023, extending his tenure until 2028. The club won 3-0 against Cardiff City to finish with 101 points and become the first team since Leicester City in 2013-14 to surpass the 100-point mark in a season.
Kompany's debut as a Premier League manager on August 11, 2023, resulted in a 3-0 loss to reigning champions Manchester City.
12. Roberto De Zerbi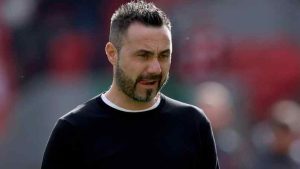 Taking the reins from Graham Potter on September 18, 2022, Roberto De Zerbi began a new journey with Brighton & Hove Albion with a four-year contract. De Zerbi's arrival saw a mixture of challenges and moments of brilliance.
His debut match in the league ended with a 3-3 draw against Liverpool, then he recorded an impressive win over Chelsea. His side remains unbeaten against Liverpool and secured a victory in the FA Cup against the defending champions.
Brighton reached the FA Cup semi-finals while they lost out on penalties. On May 21, 2023, they secured a top-seven finish, earning qualification for European competition for the first time in the club's history.
READ: 8 Best Genuine Two-Footed Soccer Players In The World
13. Unai Emery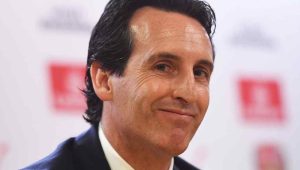 The summer of 2023 experienced a new era at Aston Villa with crucial changes both on and off the field. Emery's partnership with Sevilla's sporting director Monchi, who assumed the role of President of Football Operations.
The duo's history at Sevilla, particularly during the club's triumphant UEFA Europa League campaigns from 2013 to 2016 was formidable. The synergy between Emery and Monchi was good in the transfer market as Aston Villa secured key signings.
Pau Torres joined from Villarreal for a reported £33 million. Additionally, the club broke its previous transfer record with the signing of Moussa Diaby from Bayer Leverkusen, with the fee reportedly exceeding £50 million.
Aston Villa's dominant 4-0 victory over Everton in their first home game of the season set a historic record of eight consecutive Premier League home victories.
This achievement not only demonstrated Emery's tactical prowess but also highlighted the team's growing strength.
14. Rob Edwards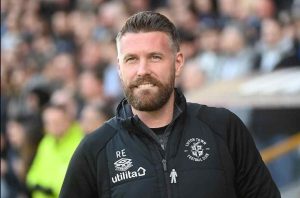 On November 17, 2022, Rob Edwards stepped into the role of the head coach at Championship club Luton Town. Edwards' first season at Luton Town was fantastic, guiding the team to a third-place finish in the Championship.
In the EFL Championship playoff final, Luton Town faced Coventry City, and the intensity of the match was matched only by its dramatic conclusion.
After a hard-fought battle that ended 1-1 after extra time, Luton Town emerged victorious, winning 6-5 on penalties. This victory sealed their promotion to the Premier League.
READ ALSO: Top 10 Biggest Football Stadiums In Italy
15. Sean Dyche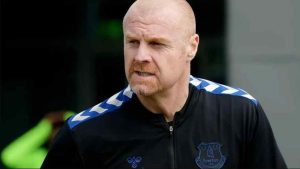 On January 30, 2023, Sean Dyche became Everton's head coach. Dyche's Everton triumphed over Arsenal in his debut match in charge, securing a pivotal 1-0 victory.
Since then, the results have been a mixture of victories and setbacks. In the 2022-2023 season, Everton was in a relegation position.
Going into the final day on May 28, 2023, they held a slim 2-point lead in 17th place over relegation rivals Leicester City and Leeds United.
Everton faced AFC Bournemouth on the final day of the campaign, winning with a hard-fought 1-0 victory to stay in the Premier League.
16. Roy Hodgson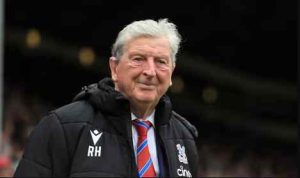 Roy Hodgson answered the call to return to Crystal Palace as their manager on March 21, 2023, and this decision was a reunion that carried huge significance, both for Hodgson and the club.
Hodgson's return ignited a spark of revival within the team. His first match back in charge was a convincing 2-1 victory over Leicester City on April 1, 2023. This win ended Palace's lengthy winless streak.
Hodgson's experience played a key role in steering Crystal Palace away from the relegation zone. With a series of wins and draws, the club secured a comfortable 11th-place finish in the Premier League.
On July 3, 2023, Hodgson agreed to extend his managerial role for the upcoming 2023/2024 season. This decision recalled the mutual trust between Hodgson and the club's board, underscoring his role in shaping the team's future.
17. Mauricio Pochettino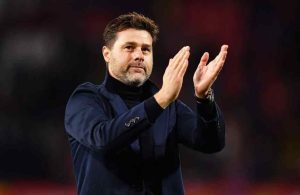 Mauricio Pochettino has taken a turn as he steps into the hot seat at Chelsea. I'm hoping he has come prepared though his arrival promises a massive transformation.
On May 29, 2023, the football world was abuzz with the news of Mauricio Pochettino's imminent appointment as head coach of Chelsea. The announcement carried weight and excitement, as fans and analysts considered the impact of his arrival.
READ: Which Teams Have Won The Premier League?
With a two-year contract and the option for an extension, his tenure is poised to shape the club's revolution for years to come with the young talented squad.
Pochettino's first match in charge was against Liverpool at Anfield, the clash against one of the league's giants.
The debut match against Liverpool ended in a 1-1 draw, but the Chelsea side we saw in this game was extraordinary even though they couldn't nail their opponents, the performance was impressive.
18. Ange Postecoglou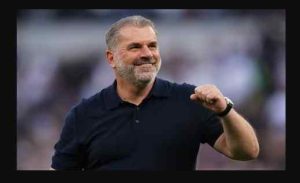 Ange Postecoglou is currently the new Tottenham Hotspur head coach. Postecoglou's appointment made him the first Australian and the first Greek-born person to manage a team in the Premier League.
With a four-year contract, Postecoglou's time at Tottenham Hotspur is assured to be a successful one. The extended duration provides a great opportunity for him to implement his football philosophy and make a good impact on the club.
READ ALSO: Top 10 Largest Stadiums In Germany
19. Andoni Iraola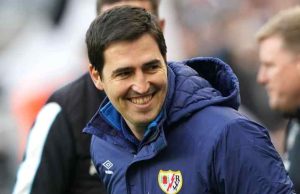 Andoni Iraola is another new face in the English Premier League, being the new AFC Bournemouth manager. From his appointment to the challenges that lie ahead, his presence vows a fresh perspective.
On June 19, 2023, Andoni Iraola was appointed as manager of AFC Bournemouth with Gary O'Neil's departure earlier that same day.
His leadership will be crucial in guiding the team through this challenging period and ensuring a seamless progression toward the club's goals.
20. Gary O'Neil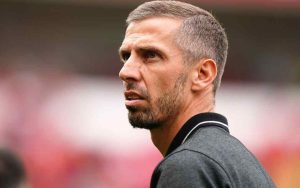 On August 9, 2023, Wolverhampton Wanderers appointed Gary O'Neil following Julen Lopetegui's departure due to board disputes.
As Wolverhampton Wanderers' new manager, O'Neil became the club's first English-born manager since Kenny Jackett's departure in 2016.
O'Neil's debut as manager came just four days after his appointment, in a match against Manchester United. Despite a narrow loss and a controversial penalty appeal, it was one of the best performances in the first game of the 2023/2024 season.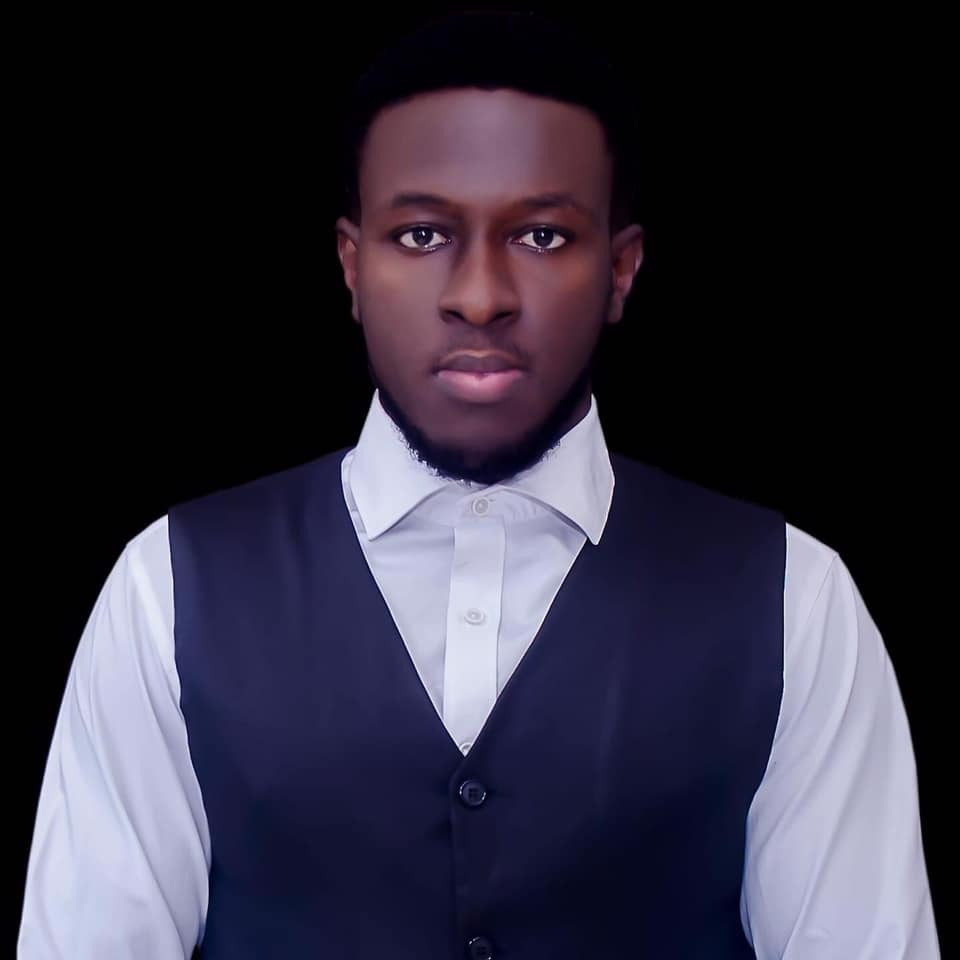 Kenneth is a an avid soccer follower, fan and writer. He is a consistent follower of the sport and is a fan of Chelsea FC.