This is the list of the top 5 amazing defenders with the most goals in Premier League history.
Even though a defender's primary role and responsibility is to stop, destroy, and not let the opposition put the goal in their net, some defenders have proven to be incredible goal scorers.
They are always like, It's enough doing the dirty job, let me produce a scene that will be the talk of the game. These guys have redefined the defending role, and now goals to their name.
Is it through a free-kick spot or a corner? They can be excellent goal machines, and save the team when it matters.
However, in this post, I will dig into the Premier League, and share with you the top 5 highest-scoring, plus the number of goals they have recorded in the game.
READ ALSO: Top 5 Best Playmakers In The World Right Now
Top 5 Amazing Defender With Most Goals In Premier League History
John Terry
David Unsworth
Leighton Baines
Ian Harte
Gary Cahill
Let's dive in.
1. John Terry
John George Terry is considered one of the best defenders in Premier League history.
He was a formidable center-back, and his illustrious career covered from his time at Chelsea to captaining both the England national team and Aston Villa.
He is renowned for his defensive skills, leadership qualities, and goal-scoring ability, a true legend of the game.
However, Terry's performances in the Premier League are impressive, as evidenced by his remarkable record of 492 appearances. Aside from his defensive skills, another impressive aspect of his game is his goal-scoring skills.
With 41 goals in the Premier League, Terry made his name into the history books, being one of the league's most prolific defenders.
In addition, Terry's contribution to Chelsea's success can not be overlooked. He was the team captain for 19 years, and he guided the team to many victories.
And his leadership skill was a great factor in Chelsea's dominance, winning five Premier League titles, five FA Cups, three League Cups, one UEFA Europa League, and one UEFA Champions League title.
Even his ability to provide assists makes him an all-around complete defender. Recording 12 assists to his name, he showed his versatility and vision by setting up his teammates for crucial goals. At the same time, one can not overlook Terry's impact on keeping clean sheets.
A staggering total of 214 clean sheets highlights his ability to marshal the defense and maintain a formidable defensive record throughout his career.
In all, Terry's defensive skill, plus his exceptional goal-scoring ability was quite impressive, and no other premier defenders have been able to match his goals.
READ ALSO: 5 Best Right Backs In Soccer History (2023 Ranking)
2. David Unsworth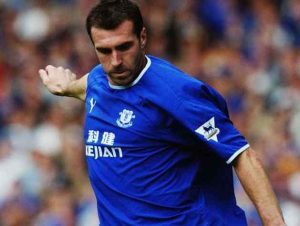 When reminiscing about the golden era of Everton in the 1990s, you would think of David Unsworth.
Known as "Rhino," Unsworth was part of the FA Cup-winning team of 1995.
However, he has made it to my list due to his goal-scoring ability, so I celebrate him as he is one of the highest-scoring defenders in Premier League history. Unsworth's career in the Premier League showed his versatility in the art of defending.
Starting his career at Everton, he made his presence felt and became an integral part of the team. His nickname "Rhino," symbolizes his tenacity and ability to protect Everton's defensive line.
Throughout his time in the Premier League, Unsworth's goal-scoring exploits from his defensive position were part of the history. Recording 38 goals, his contributions to Everton's attack were impressive.
Unsworth's aerial prowess and ability to convert set-piece opportunities made him a constant threat inside the opposition's penalty area.
In addition to his defensive skills, he kept 90 clean sheets during his Premier League career. Also, his ability to provide 18 assists demonstrated versatility on the pitch.
Whether it was precise long balls, crosses, or clever set-up plays, Unsworth displayed his range of skills to create goal-scoring opportunities.
While I mostly remembered him for his time at Everton, Unsworth's career in the Premier League stretches out across various clubs.
He also played for West Ham United, Portsmouth, Sheffield United, and Wigan Athletic, and his work ethic, defensive prowess, and ability to find the back of the net was exceptional.
3. Leighton Baines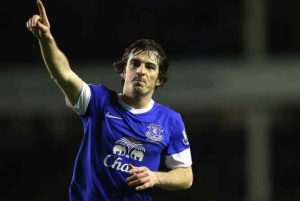 Leighton Baines is a true definition of versatility and technical excellence.
Regarded as a dependable left-back, Baines' performances in the Premier League lasted over a decade and earned him a special honor for his set-piece expertise, and penalty prowess.
Currently, he is the Professional Development Coach and U18s head coach at Everton. With 420 appearances in the Premier League, Baines displayed his brilliance at the highest level of English football.
However, it is his goal-scoring ability from the left-back position that makes him a standout figure among his defenders in the premier league.
Scoring 32 goals, Baines proved time and again that he possessed the instinct to find the back of the net.
He initially played in midfield and attack, it was during his time at Wigan Athletic that he moved to the left-back position, a move that shaped his career.
This transition change of position helped Baines to show his defensive discipline while also using his attacking attributes to impress.
One of Baines' most notable qualities was his set-piece expertise, which earned him a name as a dead-ball specialist. His ability to deliver crosses, bend in wicked free-kicks, and convert penalties made him a great player on the pitch.
With 53 assists to his name, Baines held the record for the most assists as a defender in Premier League history. I appreciate his exceptional crossing ability, stamina, intelligent link-up play, and his ability to avoid injuries.
As Baines embarks on a new chapter of his career as a coach, his legacy as one of the Premier League's finest defenders remains intact. His goal-scoring ability, set-piece expertise, and versatility will be celebrated for years to come.
READ ALSO: 10 Biggest Premier League Wins In History
4. Ian Harte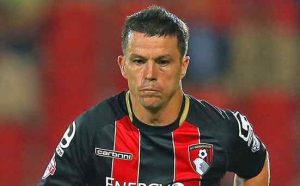 I love Ian Patrick Harte's long-range strikes and set-piece mastery as he is one of the Premier League's versatile left-back.
In his career, Harte has shown the ability to score spectacular goals, a true threat from a distance.
With impressive performances both domestically and internationally, Harte is arguably among the top goal-scoring defenders in Premier League history.
His career began at Leeds United, where he spent nine seasons and made 288 official appearances.
It was during his time at Leeds that Harte announced his balling skills with his incredible ability to find the back of the net from improbable distances. His thunderous strikes from free-kicks and long-range shots became his trademark.
However, following Leeds United's relegation and financial difficulties in 2004, Harte made the bold decision to join La Liga team Levante. His desire to compete at the highest level saw him embrace a new challenge in Spain.
Although his time there was short, we wouldn't be wrong if we say it enhanced his skills and broadened his footballing horizons. In 2007, Harte returned to England, continuing his career in the Premier League.
Notably, he played a crucial role in Reading's Championship title-winning campaign in 2012 and achieved more success with AFC Bournemouth.
Harte also represented the Republic of Ireland on the international stage, earning 64 caps and scoring 12 goals between 1996 and 2007.
However, In the Premier League, Harte's goal-scoring prowess stood out, as he scored 28 goals. And he provided 36 assists for his teammates.
That said, Ian Harte remains an iconic figure in Premier League history, and his ability to score goals from distances, coupled with his defensive skills made him one of the most goal-scoring defenders.
5. Gary Cahill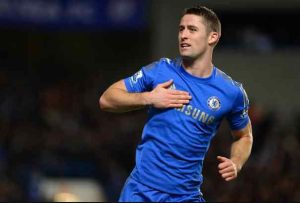 Gary Cahill has made his name in Premier League history with his commanding presence, technical prowess, and goal-scoring ability.
Renowned for his powerful heading, Cahill is a two-time Premier League champion and an important figure in Chelsea's success.
His ability to find the back of the net from the heart of the defense earned him a place among the league's most impressive goal-scoring defenders.
I do not think Cahill is that technical sound, but his heading, and the way he blocks shots, and passes were impressive.
Also, his aerial prowess was great which helped him to dominate in both penalty areas, scoring crucial goals while maintaining defensive stability.
Despite his primary role as a defender, Cahill's finishing prowess and strength with his head were a threat during set-piece situations.
Former Chelsea manager André Villas-Boas lauded Cahill's blistering pace. Cahill's leadership qualities were recognized as he captained both Chelsea and the England national team.
With that said, Garry Cahill registered 394 appearances in the Premier League and an awesome goal-scoring record of 28 goals.
Alongside his goals, Cahill provided 11 assists, showing the glimpse ability to contribute to the attacking play of his team.
However, we shouldn't forget about his contributions to Chelsea's triumphs. He played an integral role when Chelsea won their title in 2014/15 and 2016/17.
Also adding a UEFA Champions League title and a Europa League title to his impressive list of honors. I would refer to him as Gary Cahill, the robust champion and goal-scoring defender.
READ ALSO: 7 Best Benfica Players Of All Time (Ultimate Ranking)
Conclusion
So, buddy, here are the top five amazing defenders with the most goals in Premier League history are:
John Terry – 41 goals
David Unsworth – 38 goals
Leighton Baines – 32 goals
Ian Harte – 28 goals
Gary Cahill – 28 goals
These defenders have not only impressed in their defensive duties but have also made a significant impact in front of the goal.
Their goal-scoring skills have redefined the role of defenders in the game, displaying their technical skills, aerial prowess, and set-piece expertise.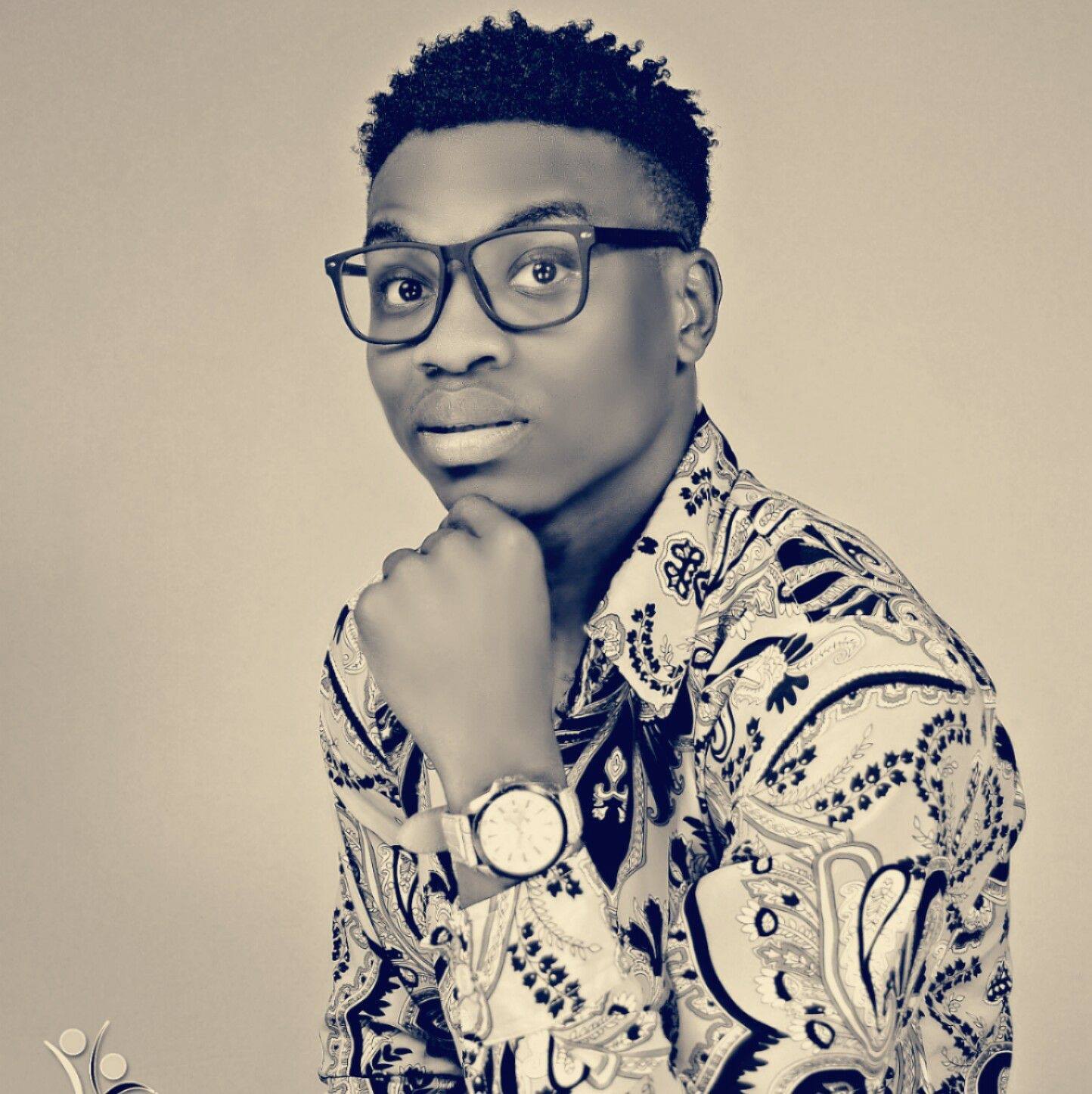 Pataka is a consistent and avid follower of the round leather game. He communicates his passion by editing soccer posts for various soccer platforms.