This is the ultimate list of the top 5 best young Asian players in FIFA 23. Asia is one continent that I love. They produce magic players, and we have seen lots of them producing that magic performance for their respective clubs.
Admittedly, they might not be the best in their team, but only a few possess their football magic.
However, In FIFA 23, the game's latest edition, several emerging players from Asia are poised to make a significant impact in the game.
With that being said, While not widely recognized yet, they look destined for impressive futures in virtual football.
READ ALSO: Top 10 Best Dribblers In Football History (All-Time Ranking)
Top 5 Best Young Asian Players In FIFA 23
Oscar Gloukh
Manor Solomon
Takefusa Kubo
Kang In Lee
Liel Abada
Let's learn about their stats in FIFA 23.
1. Oscar Gloukh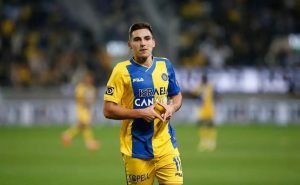 At just 18 years old, Oscar Gloukh from Israel caught the attention of fans in FIFA 23.
Gloukh possesses a rating of 72 playing as a central attacking midfielder, but his potential is an impressive 84, who knows? he might have a bright future in the game.
In terms of attributes, Gloukh boasts 4 skill moves and 4 weak foot proficiency, making him a versatile player. His preferred foot is right, and he displays high attacking work rates and low defensive work rates.
Gloukh may be short in stature but his technical abilities make it look easy for him. For height and weight, he is at a height of 170cm (5'6″) and weighs 63 kg (139 lbs).
However, Gloukh does not have a real face in the game, but his in-game statistics speak volumes.
His overall ratings for various positions show his versatility, with notable ratings including 71 as a right-winger, left-winger, and center-forward.
Though he impresses in his primary position as a CAM with an overall rating of 72.
Analyzing his skill qualities, he impresses in several areas, and his dribbling ability is great, rated at 76, allowing him to move in tiny spaces with ease.
Additionally, his passing attributes, such as short passes (73) and ball control (74), contribute to his effectiveness in orchestrating attacking plays.
While his finishing and heading accuracy may still be developing, at 68 and 52 respectively. In terms of his career, Gloukh is a player to watch out for in FIFA 23.
With a potential rating of 84, his value is estimated at €5.5M, plus a wage of €6.7K.
READ: 5 Best Young African Players In FIFA 23
Although he currently lacks any specialized traits or specialties, his technical dribbling, outside foot shot, and flair demonstrate glimpses of his creative style of play.
2.
Manor Solomon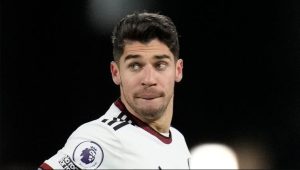 In FIFA 23, Manor Solomon, a 22-year-old talent from Israel, is making waves with his football skills.
He is a left midfielder with great qualities as he boasts a rating of 77, but it is his potential rating of 84 that truly highlights his promising future in the game.
Solomon's in-game attributes are truly impressive, with 4 skill moves and 4 weak foot proficiency, he offers something remarkable in his gameplay.
As a right-footed player, he displays cool dribbling skills (rated at 84), allowing him to move past defenders. His attacking work rates are also high, matched by an equally aggressive defensive approach.
However, Solomon's skills in different areas are something that has grabbed my attention, his proficiency in crossing (72) and short passing (78) tells me about his ability to create scoring chances.
Moreover, his dribbling prowess, coupled with good ball control (75) and curve (78), shows his ability to deliver precise crosses.
Although not a primary goal scorer, his finishing (74) and long shots (71) demonstrate his ability to contribute with goals when given the chance.
What about his physical attributes? Solomon possesses decent shot power (75) and acceleration (84)which help him to burst opponents.
While his defensive attributes may not be his strongest suit, his stamina (66) ensures his involvement throughout the match.
Mentally, Solomon displays composure (78) and vision (73), enabling him to make intelligent decisions under pressure.
And despite being less inclined towards aggressive play, his positional awareness (74) adds depth to his overall game.
READ ALSO: Top 5 Youngest Premier League Managers In 2023
3. Takefusa Kubo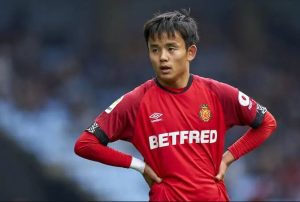 Takefusa Kubo is a 21-year-old Japan rising star in FIFA 23 that has captivated fans with his immense talent and potential.
Kubo has gotten a commendable rating of 78, but his impressive potential rating of 85 makes him one of the best young Asian players in FIFA 23. Kubo's in-game attributes are nothing short of impressive.
Possessing 4 skill moves and 4 weak foot proficiency, he displays imaginable skills in his gameplay. He is a left-footed player with flair, particularly in his technical dribbling (rated at 88).
With balanced work rates (medium/medium), Kubo contributes both in attack and defense.
He may not have a physically imposing stature, but his acceleration (88) and sprint speed (79) ensure he can leave defenders behind. He also lacks a real face in the virtual game.
Also, he demonstrates his ability to come up effectively in various attacking positions with impressive ratings of 80 as a right-winger, left-winger, center-forward, and attacking midfielder.
In addition, Kubo's ability to finish (78) and take long shots (76) makes him a potent goal-scoring threat.
Physically, Kubo possesses notable attributes such as shot power (75) and stamina (75), allowing him to maintain his high-intensity style of play throughout matches.
While not the strongest player, his agility (85) and balance (83) enable him to maneuver past defenders and keep control of the ball.
And mentally, Kubo's impressive reactions (82) and vision (79), help him make intelligent decisions. However, with a market value of €29M and a wage of €27.5K, Kubo is undoubtedly a player on the rise.
As he continues to make his mark in virtual football, fans can expect to witness his rapid growth and remarkable performances.
READ ALSO: 10 Best Captains In Soccer History
4. Kangin Lee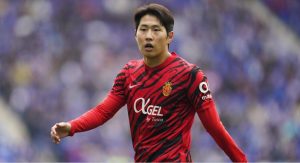 This 21-year-old Korean sensation is making a name for himself with his outstanding performances.
Initially impressing gamers in FIFA 22's Sporting career mode, Lee has now carried his exceptional form into FIFA 23, where he continues to impress Braga.
His remarkable skills have captivated many gamers like me, including those eager to sign him in-game. With a rating of 77 in FIFA 23, his potential rating of 84 shows his growth.
Talking about the in-game attributes, Lee boasts 4 skill moves and 3 weak foot proficiency, making him a dynamic player.
With a left-footed playing style, he expresses a penchant for technical dribbling, displaying his ability to move in-between opponents.
Also, his work rates are classified as medium/low, focusing on attacking play rather than defensive contributions. Looking at Lee's potential, rated at 84, it is clear that he is a player with room for improvement.
With a market value of €21.5M and a wage of €19.5K, his virtual worth signifies his rising prominence in the game. Lastly, his skill qualities include traits like being a technical dribbler and a long-shot taker.
5. Liel Abada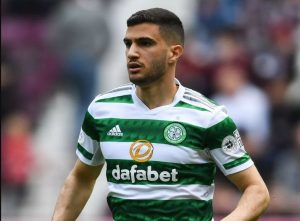 Liel Abada is a talented wide man from Celtic in Scotland who I strongly consider one of the best young Asian players in the virtual football world of FIFA 23.
READ: 8 Best Genuine Two-Footed Soccer Players In The World
Abada is currently 21 years old and has already established himself as a force to be reckoned with. Sporting an overall rating of 74 in FIFA 23, Abada has got immense potential with a rating of 82.
Abada brings versatility and attacking prowess to the game as a wide man. With a 3-star skill moves rating, he possesses the ability to pull off dazzling maneuvers on the virtual pitch.
He prefers to shoot with his right foot which allows him to play powerful and accurate shots. And his work rates are high/low, which indicates a strong focus on offensive contributions while maintaining positional discipline.
In terms of physical attributes, Abada stands at a height of 168 cm and weighs approximately 67 kg. These measurements, according to the source database, contribute to his agility and quickness on the field.
However, his best statistics reflect his attacking prowess, with notable ratings in crossing (68), finishing (74), and heading accuracy (69).
These attributes make him a potent threat in delivering precise crosses and finding the back of the net. Furthermore, his dribbling (70) and ball control (73) skills help him to maintain close control of the ball even in tight spaces.
And his physicality, he possesses impressive speed and agility. With high ratings in acceleration (89) and sprint speed (85), and exceptional balance (93 ), these attributes allow him to maintain control while changing direction at pace.
He also shows strong attacking positioning (75) and vision (72) which help him to make decisive moves.
While not known for his defensive contributions, his overall composure (68) and aggression (55) make him a great presence on the pitch.
READ ALSO: Top 5 Germany Biggest Defeats In Football History
Conclusion
This ultimate list highlights the top 5 best young Asian players in FIFA 23 who have proved their exceptional skills and potential.
Oscar Gloukh, Manor Solomon, Takefusa Kubo, Kangin Lee, and Liel Abada have all made a significant impact in the virtual football world.
Despite their young age, they possess remarkable attributes and demonstrate their unique playing styles.
From Gloukh's technical abilities to Solomon's versatility, Kubo's explosiveness, Lee's dynamic skills, and Abada's attacking prowess, these players have all earned their place among the best young Asian talents in the game.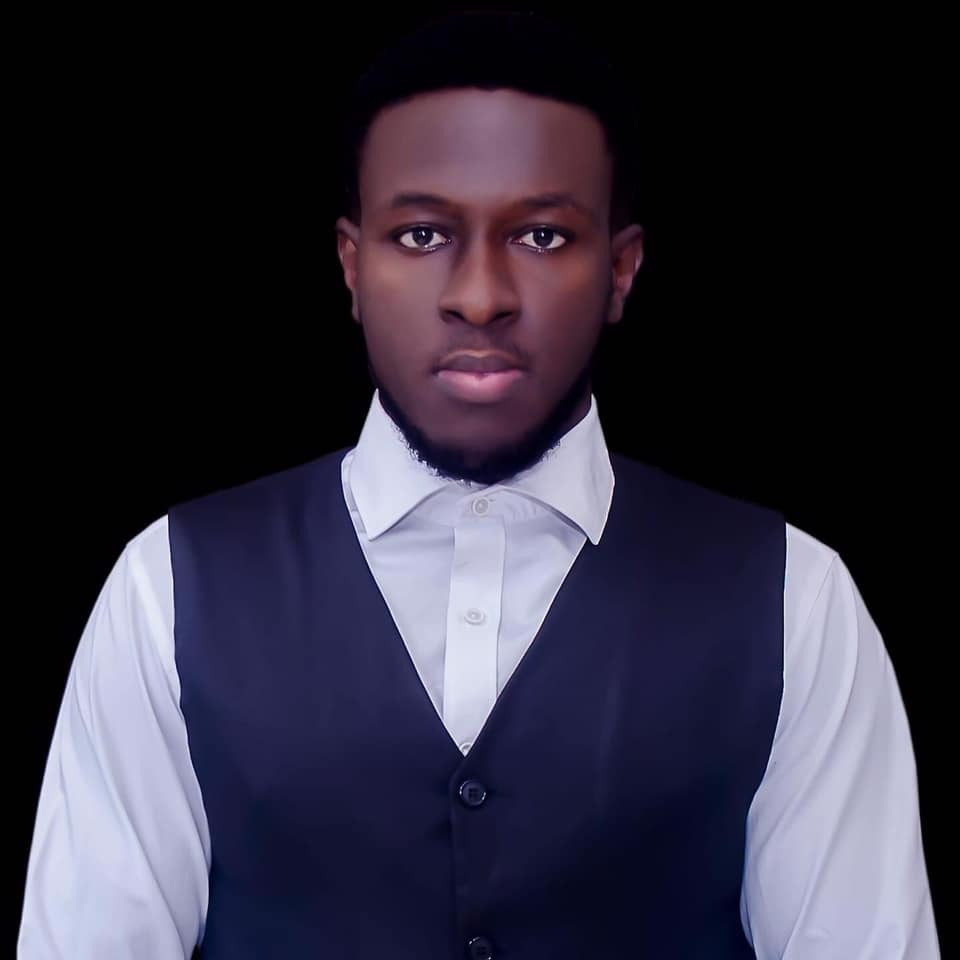 Kenneth is a an avid soccer follower, fan and writer. He is a consistent follower of the sport and is a fan of Chelsea FC.