In this post, I will be ranking the biggest, and the most expensive shirt sponsorship deals in football and these are by far the highest shirt sponsorship deal in 2023.
According to Statista's ranking in the 2022/2023 season, the football club with the most expensive shirt sponsorship deal was Real Madrid. The team's sponsorship deal with Emirates was worth an estimated 70 million euros annually.
However, here's the full list of the;
Top 10 Most Expensive Shirt Sponsorship Deals In Football
Real Madrid
Paris Saint-Germain
Barcelona
Manchester City
Liverpool FC
Juventus
Manchester United
Bayern Munich
Arsenal
Tottenham Hotspur
Let's learn the worth of each football club sponsorship deal.
READ ALSO: 10 Premier League Players With The Most Titles
1. Real Madrid
The iconic white jerseys of Real Madrid have long been associated with success.
However, the club's renowned status goes beyond its success on the field, as shown by its illustrious shirt sponsorship deals. Among these lucrative collaborations is the partnership between Real Madrid and Emirates.
The Emirates logo holds household recognition among football fans, with the text "Fly Emirates" (now "Emirates – Fly Better") across the kits of many famous football clubs.
The Emirati airline has forged sponsorships with renowned clubs like AC Milan, Arsenal, Chelsea, Paris Saint-Germain, and Hamburger SV over the years.
However, Real Madrid welcomed Emirates as their principal sponsor in May 2013, in a deal worth an impressive €30 million per annum.
Recognizing the immense value brought by Real Madrid's association, the partnership between the club and Emirates was extended in September 2017.
This four-year extension came with a staggering €70 million per season price tag, setting a new benchmark for sponsorship deals in world football. At the time, it stood as the most expensive shirt sponsorship deal in the sport's history.
2. Paris Saint-Germain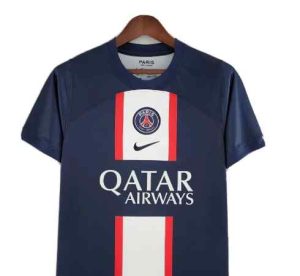 When it comes to securing lucrative shirt sponsorship deals, Paris Saint-Germain (PSG) stands at the forefront of European football after Real Madrid. One of the most expensive shirt sponsorship deals is PSG's partnership with Qatar Airways.
Qatar Airways first joined PSG as a Premium Partner in 2020, with the airline's logo making its debut on the club's matchday shirts.
This initial agreement, reportedly valued between €5 million and €10 million per year, showed the mutual benefits of the partnership.
PSG gained a valuable financial shot, while Qatar Airways received exposure and association with a high-profile football club. However, the collaboration between PSG and Qatar Airways reached new heights ahead of the 2022/23 season.
The airline was upgraded to the status of Major Partner, and the new agreement is set to be worth a staggering €60 million to €70 million and covers not only the men's team but also the women's and youth teams, underlining the comprehensive nature of the partnership.
With the Qatar Airways logo prominently displayed on the front of all PSG matchday shirts, the partnership symbolizes the global reach and influence of both entities.
3. Barcelona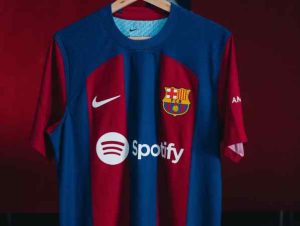 Barcelona Football Club has secured a new five-year sponsorship deal that promises to offer much-needed funds to the club and potentially facilitate vital new signings.
According to Mundo Deportivo, the agreement with Dutch electronics giant Philips is valued at €56 million ($60 million).
This deal sees Philips become the official sponsor for Barcelona's first-team shirts, filling a spot that has remained vacant since Beko's arrangement expired in 2021.
The inclusion of the optional extension clause reflects the uncertainty surrounding Barcelona's leadership.
Should current president Joan Laporta fail to secure re-election, the last two years of the sponsorship agreement would require mutual agreement between Barcelona and Philips.
Nonetheless, the Catalan club welcomes this partnership as a major boost, considering the financial implications. For Barcelona, the addition of Philips as a key sponsor offers an opportunity to strengthen the squad.
The club has been actively seeking strategic partnerships to support their ambitions on and off the field.
READ ALSO: What Is The Highest-Scoring Game In Football History?
4. Manchester City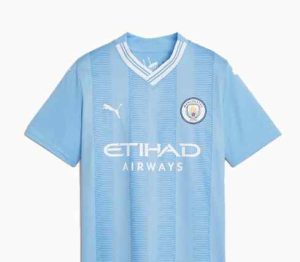 The Abu Dhabi-headquartered UAE flag carrier became the sponsor of Manchester City in 2011, not only securing the front space on the club's kits but also obtaining the naming rights to their stadium.
The City of Manchester Stadium transformed, becoming the Etihad Stadium in a powerful display of corporate branding in the football world.
The decade-long partnership between Manchester City and Etihad Airways reached its final year ahead of the 2020-21 season.
The deal, reportedly worth a staggering £67.5 million per year, sparked a new era and analysis surrounding sports sponsorship agreements. Undoubtedly, the Etihad deal played a crucial role in Manchester City's rise over the past decade.
Initially seen as an up-and-coming prospect, the club has since amassed multiple Premier League titles, League Cups, and FA Cups, continuously winning silverware.
In 2020, Manchester City's owners found themselves in a high-profile legal battle with UEFA, who accused them of illicit funds into the club, with fingers pointing towards sponsorships like Etihad.
Although City successfully defended against the allegations, the controversy surrounding the Etihad deal remains.
In February 2023, the Premier League brought multiple charges against Manchester City for breaches of its financial rules between 2009 and 2018. As of now, the matter remains unresolved, leaving the future of the Etihad deal and its implications uncertain.
5. Liverpool FC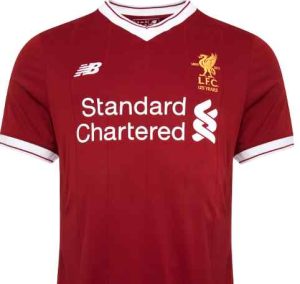 Among their roster of sponsors, Standard Chartered Bank's deal with Liverpool Club is one of the highest shirt sponsorships in football. This partnership is valued at an impressive $53.50 million per year.
In the 2022/23 season, Liverpool FC boasts sponsorship agreements with a total of 25 brands.
However, it is their top five partners that account for a substantial 83% of the club's total sponsorship income, highlighting the significance of key collaborations in driving revenue.
According to GlobalData's report, Liverpool's highest-spending sponsors include Standard Chartered Bank, NIKE, AXA, Expedia, and Carlsberg, among others.
As Liverpool FC continues to strive for greatness, the support of Standard Chartered Bank reinforces their financial stability and contributes to their ability to compete at the highest level.
6. Juventus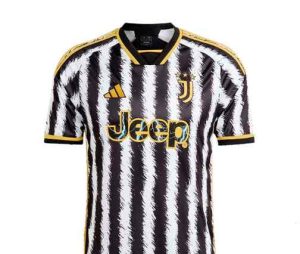 In December 2020, Juventus inked an agreement with Jeep, valued at $53.1 million per year.
This landmark partnership catapulted them into the ranks of the world's top clubs with the highest kit sponsorship deals, as reported by Forbes.
While Real Madrid currently leads the pack with their Emirates deal worth a staggering €70 million per season, Juventus' collaboration with Jeep places them firmly in the top 10 most expensive football shirt sponsorships.
The Juventus-Jeep partnership is good for both parties, but it is set to reach a crucial juncture as the deal's expiration looms in 2023.
Negotiations for a contract renewal or the pursuit of a new major sponsor will be crucial in maintaining Juventus' financial strength.
READ ALSO: 8 Best Female Soccer Players In The World (2023)
7. Manchester United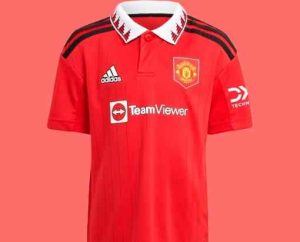 Manchester United, one of the most valuable football clubs in the world, embarked on a new era of sponsorship with their deal with German company TeamViewer in 2021.
This partnership replaced the previous agreement with the American automaker, Chevrolet, and ushered in a new era of collaboration.
The TeamViewer sponsorship, which commenced in 2021, is set to last for five years.
Sky Sports reports that the deal is worth a staggering £47 million per year, amounting to an overall value of £235 million for the contract.
The German company is expected to provide the club with remote connectivity solutions, leveraging its expertise in technology and connectivity to enhance Manchester United's operations both on and off the pitch.
From a business perspective, the collaboration presents numerous opportunities for TeamViewer, allowing them to display their products and services to a vast global audience through the platform of one of football's most revered institutions.
Manchester United's status as a global brand cannot be overstated, with a fanbase across the world and ranks only behind FC Barcelona and Real Madrid in terms of popularity.
8. Bayern Munich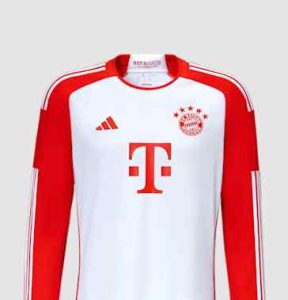 Bayern Munich has an enduring partnership with telecommunications giant Deutsche Telekom, commonly known as T-Mobile.
This long-standing association between the club and the telecom service provider dates back to 2002 and was recently extended until 2027 in a deal worth 50 million euros, as reported by Sports Media Pro.
The new agreement represents an upgrade from the previous deal, ensuring that Bayern Munich will receive an additional fee of five million euros.
T-Mobile, a player in the European telecommunications market, offers a range of services including high-speed internet connections such as 5G and operates in various countries, including the United Kingdom and the United States.
Despite the Bundesliga facing fierce competition from leagues like La Liga and the Premier League, Bayern Munich remains a commercial club.
The club's commercial revenue reached a staggering 345.2 million euros ($342.2 million) in 2021, surpassing renowned clubs such as Paris Saint-Germain and Real Madrid.
The key to Bayern Munich's commercial success lies in their consistency.
In August, the club signed a new shirt sponsorship deal with Deutsche Telekom, securing the iconic "T" logo on the front of their shirts for over two decades.
While Audi, Adidas, and Allianz hold an 8.33% stake in the club, Deutsche Telekom is recognized as a strategic partner rather than a mere sponsor.
9. Arsenal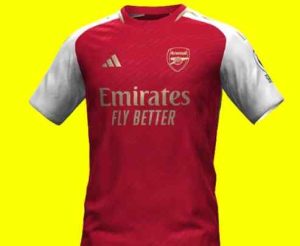 Arsenal Football Club has an agreement with Emirates, one of the world's leading airlines in a five-year shirt sponsorship deal.
This contract, which will stretch until the end of the 2023-24 season, marks one of the highest sponsorship deals ever by the club, with an estimated value exceeding £200 million over five years.
Remarkably, this partnership will extend to a minimum of 18 years by the conclusion of the newly-signed contract.
Their terms with Emirates, valued at over £40 million per season, rank as the fourth most lucrative in the Premier League.
READ ALSO: 10 Best Football Goal Celebrations Of All Time
10. Tottenham Hotspur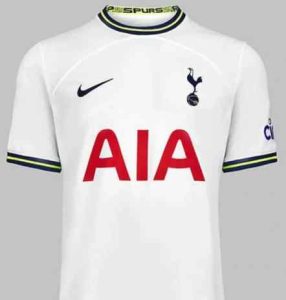 Tottenham Hotspur Football Club secured one of the most expensive sponsorship deals with their jersey sponsorship revenue demonstrating their commercial capabilities.
Since the 2009/10 season, Tottenham Hotspur's jersey sponsorship deal with AIA has been a source of revenue. In 2019, the club signed a deal with AIA worth £320 million, extending until 2027.
Adding to the sponsorship deal, conditional approval has been granted for South Africa Tourism to engage in a sponsorship deal worth £42.5 million with Tottenham Hotspur.
Leaked documents in South African media outlet Daily Maverick shed light on the government's marketing agency, SA Tourism, preparing to sponsor Spurs for 910 million South African rands over three years, commencing next season.
While controversy around the deal within the South African sports community, with debates on how the funds could be better allocated, SA Tourism's acting CEO, Themba Khumalo, confirmed the conditional approval.
The proposed sponsorship would offer SA Tourism various benefits, including kit branding, interview backdrop branding, match-day advertising, partnership announcements, training camps in South Africa, and access to tickets and stadium hospitality.
The deal, reportedly in the works for six years, still requires approval from South Africa's tourism ministry and endorsement from the national treasury.
Tottenham Hotspur, however, declined to comment on the proposed sponsorship, sticking to their standard response on commercial matters.
READ ALSO: 10 Best French Players Of All Time
Conclusion
The top 10 most expensive shirt sponsorship deals in football for the 2023-2024 season indicate the immense financial power and global reach of football clubs.
Real Madrid leads the list with their lucrative partnership with Emirates, followed by Paris Saint-Germain's agreement with Qatar Airways.
Barcelona secured a valuable sponsorship deal with Philips, while Manchester City's partnership with Etihad Airways remains surrounded by controversy.
Liverpool FC benefits from Standard Chartered Bank's investment, and Juventus collaborates with Jeep to maintain financial strength.
Manchester United's collaboration with TeamViewer emphasizes its global brand status, while Bayern Munich extends its partnership with Deutsche Telekom.
Finally, Arsenal and Tottenham Hotspur have sponsorship deals with Emirates and South Africa Tourism, respectively. These partnerships tell the crucial role of sponsorships in supporting football clubs and their ambition.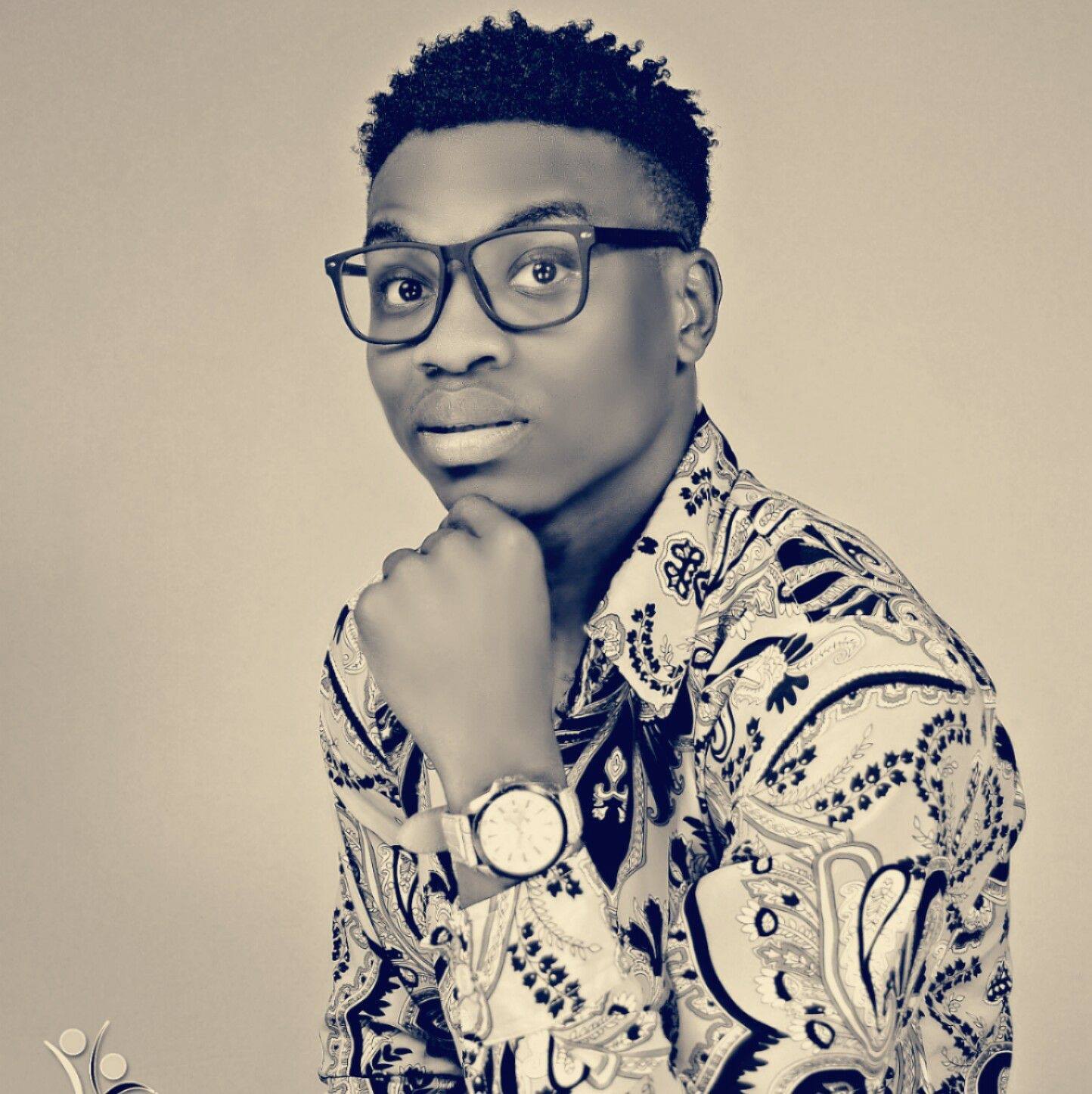 Pataka is a consistent and avid follower of the round leather game. He communicates his passion by editing soccer posts for various soccer platforms.